3 Powerful Tips On How To Deal With The Bossy Buyer
Posted on Have Your Say: Leave a comment?
While there are as many different types of buyers as there are different personalities, buyers do eventually fall into a few very distinct categories.
There is the paranoid, scared buyer who does not seem to trust or believe anything that you say. Then you have the price only buyer, who is only concerned with getting the lowest price and nothing else.
While, still you will run into the know-it-all buyer who believes they know more about your product or service than you or anyone else. And of course, you have met the overly aggressive or bossy buyer who wants to control your sales interaction from start to finish.
This bossy buyer is so easy to spot, I won't spend a sentence on explaining how to recognise this situation. Instead, here are a few brief but effective ways to help you deal with this "I'm in charge" type personality in a professional sales interaction.
#1 – Do Not Change Anything
This buyer will try to get you to alter everything that you do. He or she will often try to rush your presentation and ask you to skip details or important points and explanations.
It is critical that with this buyer, you stick to your planned (not canned) presentation. Of course, you should have room for flexibility; slightly to adjust to the prospect's personality, but you cannot trash your sales process. Stay on track.
#2 – Do Not Fight, But Don't Patronise
You do not want to argue and fight with this prospect (who will try to antagonise you at times) but you cannot succumb either.
When the bossy buyer is wrong, be clear to let him or her know that while their opinion may be a good point and have some value—it is wrong. Do not be afraid to remind this buyer that you are the expert.
#3 – Be Prepared to Walk Away
One of the main things this buyer will try to do is push you to the limit to see if you eventually give in. You must be mentally prepared to walk away from this prospect and save your self-respect and professional integrity.
Usually, when this prospect senses that you are willing to walk away, you will regain some power. It is when the prospect knows that you NEED the sale, that he or she will take advantage. Once you are willing to walk away, you will usually not have to do so.
In short, be cordial and respectful, but do not allow the bossy prospect to change who and what you are: A professional sales person!
Happy Selling!
Sean
Sean McPheat
MTD Sales Training
Have you downloaded my latest report "The Sales Person's Crisis"? Over 10,000 sales pros have.
Click on the image below to find out why your very existence as a sales person is in doubt…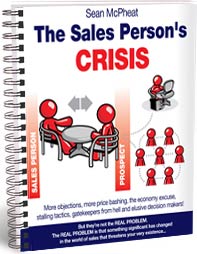 6
7
2
This entry was posted in Consultative Selling, Objection Handling, Sales Interactions and tagged Buyer Types, dealing with angry customers, how to handle buyer type who knows everything, how to handle the aggressive buyer, how to handle the controlling prospect, Recognising prospects traits. Bookmark the permalink.