3 Tips To Help Solidify Appointments And Minimize Cancellations
Posted on Have Your Say: Leave a comment?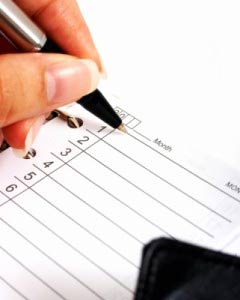 Cancelled appointments and no-shows will cost you a ton of money. You invest a great deal of time prospecting and locating the decision maker (DM). Then you went through all sort of pain getting past a tough gatekeeper screen just to reach the DM. and set the appointment. Then you could you have travel time, gas and a host of other less tangible expenses. When that appointment washes out, you lose big time.
Depending on your business, it may be impossible to eliminate canceled appointments entirely. However, you can greatly reduce them and diminish their effect on your sales process and income by making them just a bit more solid in the first place.
#1 – Set Irregular Times for the Appointment
One effective way to help strengthen the appointment is use off times for the meeting. Instead of the traditional on-the-hour or on-the-half-hour, try to setting appointments for 15 minutes of the hour, or 20 minutes after.
"So Steve, I can meet with you next Monday at 2:15 or would 3:45 be better for you?"
This approach not only makes it much harder to the prospect forget the appointment. Also gives the impression of an easy, short meeting. In addition, this gives you the image of a very busy executive, whose time is extremely valuable and who schedules his or her meetings to the second.
#2 – Have the Prospect Meet You
Another very powerful way more solid is to the phrase the appointment differently than normal. When you make an appointment over the telephone where you are going to go meet the prospect, as you are confirming, it may sound something like this:
"Great. So Sarah I will see you at your office on Tuesday, the 25th at 3:00 p.m."
The problem is that often when you are to go meet the prospect, the prospect does not get a clear mental picture of an appointment. In many cases, the prospect does not have to go anywhere or do anything. The prospect will just go to work as normal because you are coming to see him or her. The prospect often feels as if he or she has no responsibility. The appointment takes a back-seat in the mind of the prospect because there is nothing he or she has to do or has to REMEMBER to do.
Alternatively, if the prospect had to get up and go somewhere to meet someone, the appointment would take on a different meaning. So, when setting an appointment where you are to meet at the prospect's place, simply turn it around and ask the prospect to meet you. Here is an example:
"Great. So Evan, we are set for next Tuesday, the 25th at your office, and you will MEET ME there at 3:00 p.m., is that right?"
Just ask the prospect to MEET YOU even if you are going there. This subtle change gives the appointment a different, more important feeling.
#3 – When Possible, Have the Prospect Give You Directions
Ok, with Google Maps, GPS cell phones and voice command directional navigation systems, it is not quite necessary to ask for directions any more. However, asking for directions to the meeting place is a great way to help solidify the appointment in the prospect's mind. Ask for precise directions and if the meeting is in an office building, then ask for directions once you are inside the building.
Remember, setting an appointment, is closing a sale. You must cement the appointment just as strongly as you cement the sale.
Happy Selling
Sean
Sean McPheat
Managing Director
MTD Sales Training
http://www.mtdsalestraining.com
(Image by Stuart Miles)
Have you downloaded my latest report "The Sales Person's Crisis"? Over 10,000 sales pros have.
Click on the image below to find out why your very existence as a sales person is in doubt…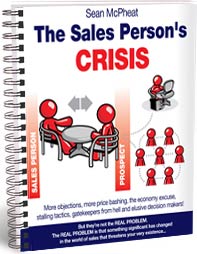 This entry was posted in Cold Calling Technique and tagged cementing the appointment, selling the appointment, setting up appointments. Bookmark the permalink.