5 Ways To Use Twitter In Your Selling
Posted on Have Your Say: Leave a comment?
Are you using Twitter yet?
In the UK, Twitter is still in it's infancy but I've been using it for quite some time now and I've managed to get some clients from it so you should check it out.
Twitter is basically a social networking tool similar to the instant message programs we have been so used to for years. The only difference is that you're limited by what you can say in 140 characters or less.
The concept is known as microblogging, though it seems as though quite a few people are taking advantage of the concept and instead of limiting themselves simply make numerous posts one after the other. But I digress.
There are a number of ways you can use Twitter during your sales and marketing campaigns.
Today I'd like to share 5.
Twitter provides sales people with a way to build up a "fan base."
Not everyone who is interested in what you do or sell will make a purchase upfront but they may in the future and they're likely to recommend you to their friends.
Using Twitter is a great way to build a buzz surrounding a new product or service you plan to launch. You can leak small bits of interesting information to the public before the actual release date and your niche target group will have the information they need in advance.
Twitter gives you another tool you can use to build your company's brand.
If your company already has a formal blog Twitter will give you the tools you need to further extend its reach. You can post links to your blog updates on Twitter as well.
Twitter followers may appreciate special deals or discounts. You can use the fan base you've created to offer loyalty discounts not found elsewhere – thus increasing your sales while keeping your fans happy.
These are, of course, only a sampling of the things you can do with Twitter. They key is to ensure you are networking with people who are really interested in what you have to offer – not just people who want to build up their own "friend lists" for their own benefit.
More on how to do that later!
Happy Tweeting!
Sean
If you'd like to follow me at Twitter then please click below:
http://www.twitter.com/seanmcpheat
Sean McPheat
The Sales Jedi
MTD Sales Blog
MTD Sales Training
Telephone: 0800 849 6732
Have you downloaded my latest report yet? "The Sales Person's Crisis" has been downloaded by over 10,000 sales pros and entrepreneurs. Don't miss this unique report that lifts the lid on modern day selling!
Click on the image below to find out why you're very existence as a sales person is in doubt…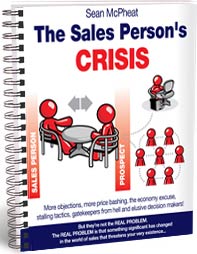 This entry was posted in Social Media and tagged 5 ways to use twitter, 5 ways to use twitter in sales, twitter, twitter selling, using twitter to sell. Bookmark the permalink.