A Clever Florists' Marketing Ploy – Makes Your Sales People's Job A Lot Easier
Posted on Have Your Say: Leave a comment?
As sales people we just need a hook and some bait!
What I mean by this is that we need something to work with – something to draw our potential customer in. We need an "in". We need a reason to call, we need a reason to say something – bottom line is that we just need something to make the sale easier.
And that's where savvy and clever marketing comes in.
I mean, take a look at this sign in a florist. It's genius.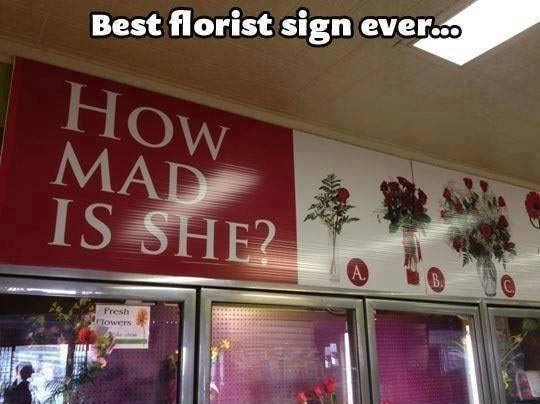 It will create some banter with the customers.
Just imagine this:
Customer: "That sign is me today, I screwed up!"
Florist: "How mad is she?"
Customer: "Really mad!"
Florist: "You're looking at option 3 or 4 then! Let me show them to you"
It's just a no brainer. It's partly an assumptive close too.
By showing the customer some options further up the scale you're giving him 2 to choose from instead of the 6 that are on the advert.
You're making it choice between those 2 higher values as well rather than some further down the price range.
Will he opt for option 1 or 2 on the advert? Probably not because you are reframing the sell to the other 2 options based on the "pain" of the problem.
So clever marketing is followed by clever selling!

TO DO:
What can you do to generate conversation starters that create options?
Can you work with marketing more effectively to give you a hook and some bait?
How can you reframe the sale so that the choice is between 2 more expensive items?
Happy Selling!
Have you downloaded my latest report "The Sales Person's Crisis"? Over 10,000 sales pros have. Click on the image below to find out why your very existence as a sales person is in doubt…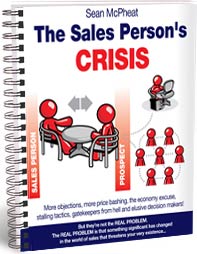 This entry was posted in Sales Stories and tagged improving sales through marketing, maketing and sales, marketing techniques. Bookmark the permalink.