The Business & Success Mindset Required For Riches!
Posted on Have Your Say: Leave a comment?
Here's a radio interview I had for Insight Radio about the winners mindset!
Insight Radio was Europe's first radio station for blind and partially sighted people and I was very pleased to do a 6 part series for them on success and personal development.
Here's the recording which you can listen to now via streaming or you can download to your computer or ipod:
[display_podcast]
Happy Selling
Sean
Sean McPheat
MTD Sales Blog
Telephone: 0800 849 6732
Have you downloaded my latest report yet? "The Sales Person's Crisis" has been downloaded by over 10,000 sales pros and entrepreneurs. Don't miss this unique report that lifts the lid on modern day selling!
Click on the image below to find out why you're very existence as a sales person is in doubt…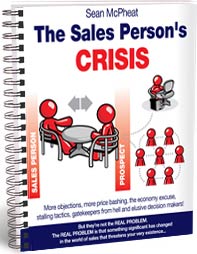 This entry was posted in Sales Podcasts, uncategorized and tagged business mindset, Sales Mindset, success mindset. Bookmark the permalink.