Could You Be Doing More To Provide Outstanding Service? – Video Blog
Posted on Have Your Say: Leave a comment?
Ok, let's be honest…if I asked you how many of your clients walk away from an interaction with you or your team and feel absolutely astonished by the level of customer service they have received from you, what percentage would you say? Whatever that percentage is, I'm betting you'd like it to be higher? Yes? Good!
Well the short video below will help you to face up to the fact that you probably could be doing more to deliver outstanding service to your clients and then show you how you can achieve this by making just a few small changes to the way that you work.
Happy Selling!
Sean McPheat
Managing Director
MTD Sales Training
Have you downloaded my latest report "The Sales Person's Crisis"? Over 10,000 sales pros have. Click on the image below to find out why your very existence as a sales person is in doubt…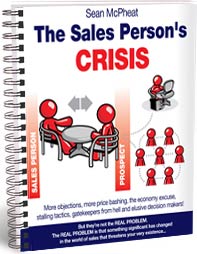 This entry was posted in Sales Mindset and tagged being the best you can be, customer service, self development. Bookmark the permalink.