How to Find Out Valuable Information About Prospects
Posted on Have Your Say: Leave a comment?
When you meet a prospect, how much information do you usually get from them? Naturally, their name, phone and email adrress is top of your list. But what other information can you ask for that would make your job easier? How much could you know that will help you identify the best way to network with this prospect? Here are some ideas of the most essential, minimum amount of information you need to make your contact really valuable…
Their name and title
Full company name and address
Phone (direct line, if possible)
Mobile
Email address
Website
Now, what other information would be useful for you to get that would help you beat the competition in getting to the prospect's real needs?
Here's some ideas:
What the company does that's better than their competition
What decision-making authority the person has
What challenges the person is facing
What challenges the company is facing
What strategies you could use to get into the company
How you can keep in contact with the prospect and how often
What their Linked-In, Facebook and Google pages tell you
What actions you can take, and information you could send, that will make the prospect sit up and take notice of you
When you consider all the information you could gain from a prospect, many times we only scratch the surface. If the prospect feels they would benefit from your services, they would be happy to give you all that information and more. Build the relationship on a personal level and you'll reap the rewards.
Happy Selling
Sean
Sean McPheat
The UK's #1 Authority On Modern Day Selling
MTD Sales Training
Have you downloaded my latest report "The Sales Person's Crisis"? Over 10,000 sales pros have.
Click on the image below to find out why you're very existence as a sales person is in doubt…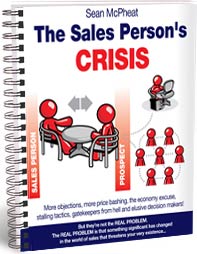 This entry was posted in Sales Planning and tagged building information about prospects, follow up with prospects, questions to ask prospects, sales questions for prospect. Bookmark the permalink.