How To Find Out Valuable Information About Your Prospects – Video Blog
Posted on Have Your Say: Leave a comment?
When you first meet with a prospect, how much information do you normally get out of them? If we're being truthful, you normally don't get enough information about them to really understand their wants and needs and this can make the process of selling to them a lot harder. Watch this short video to find out what questions you should be asking and how you can discover even more valuable information about your prospect WITHOUT having to ask.
Happy Selling!
Sean McPheat
Managing Director
MTD Sales Training
Have you downloaded my latest report "The Sales Person's Crisis"? Over 10,000 sales pros have. Click on the image below to find out why your very existence as a sales person is in doubt…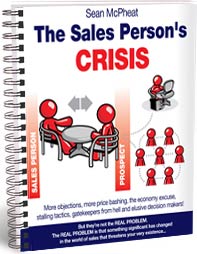 This entry was posted in Questioning Skills and tagged getting the right information when prospecting, prospecting questions, understanding your prospect. Bookmark the permalink.