Sean McPheat's TOP 5 Sales Predictions For 2013
Posted on Have Your Say: Leave a comment?
As 2012 comes to a close every "Sales Guru" out there is dusting down their crystal ball and making their "top 10 predictions for 2013"
So here's my take! Here are my top 5 predictions for the coming year!
It's Going To Be Tough For Some Time To Come – so get used to it! So no more excuses and no more blaming the economic conditions for your sales figures. It is what it is! This is the way it is and we need to accept that. Sorry it's not optimistic news but I'm not going to tell you something that it is not!
LinkedIn Becomes THE Prospecting Tool For B2B Selling – it's starting to happen right now and more and more sales professionals are using LinkedIn to prospect and to make connections with decision makers. Are you in?
Selling Will Get Sexed Up! – your prospects and clients want to be surprised. They want more and want to pay less. What are you doing differently to stand out to be noticed? The sales people who use video, audio, social prospecting and different ways of engaging with the prospect before, during and after the sale will win
Speed Wins – those companies who can respond quickly to leads will win. A recent Leads360 Study found that calling in under a minute when responding to a lead boosts conversion rates by 391%. Ok, so 1 minute may not be practical but you get the picture!
Sales Becomes Entrepreneurial – instead of cold calling and networking all of the time, look to different ways of generating leads and opportunities. Think like an entrepreneur and business owner. Think joint ventures, strategic alliances and partnerships. Get others to do the selling for you. Everyone is doing and looking in the same places for new business so look down different avenues.
So those are my predictions for 2013.
In fact, looking at them they look like predictions for the successful sales people in 2013!
Happy selling!
Sean
Sean McPheat
Managing Director
MTD Sales Training
http://www.mtdsalestraining.com
Have you downloaded my latest report "The Sales Person's Crisis"? Over 10,000 sales pros have. Click on the image below to find out why your very existence as a sales person is in doubt…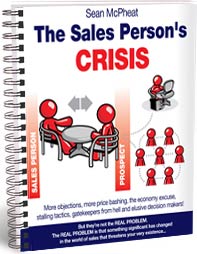 This entry was posted in Sean's Thoughts and tagged 2013 sales predictions, sales industry predictions, selling in 2013. Bookmark the permalink.