No introduction or explanation needed here. I am just going to give it to you simple, brief and straight. Follow these A B C s of account management, and you will grow your business!
A – Advise
If you really did your job in closing the sale, then you were able to elevate yourself from the position of sales person, to the level of professional consultant, solutions provider and trusted advisor.
During the sales process, you were a great advisor; you uncovered problems and exposed areas of pain and need. You then advised the client on the best way to solve the problem. However, immediately after the sale, your advice stopped.
Continue to advise your clients. I am not saying that you need to create multifaceted business plans and directives for free. However, a simple email or a brief telephone call with a tip here and there, can make all the difference.
"Hi Mary, I just wanted to let you know that there is a user's convention next month and one of the main topics is using software solutions such as the one we installed for you. I would like to suggest that you send a few of your managers there as it will help them…"
Continue to be an industry expert and leader. Continue to consult and advise.
B – Build
Continue to build on the relationship. Provide additional services or become a liaison to other services. Make your clients aware that they can call you for other things aside from what you sell. You have many clients in many different industries. Let your clients know that you are a wealth of referrals. You are a veritable trove of information and they can call you for more than what you have in your portfolio.
C – Care
Before you pocketed the commission, this customer was the most important thing in your life. You were deeply concerned with helping them solve a problem. Then, after the sale, do you feel the same way? Let the client know that you genuinely care.
Do not underestimate the value of the unexpected telephone call or the quick email that simply asks, "How have you been?"
Contact your clients occasionally when you are NOT trying to sell anything! When customers feel that the only time they ever hear from you is when you want more money, you are not cultivating a relationship.
Follow the ABCs…Advise. Build. Care.
Happy Selling!
Sean
Sean McPheat
MTD Sales Training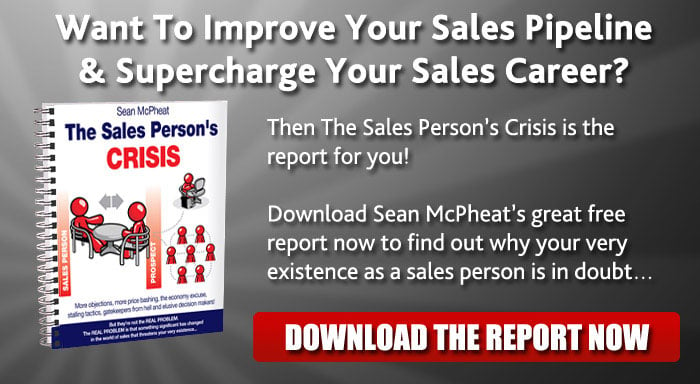 6
7
2