The Sales Process is your guide; your step-by-step road map to sales success.  To reach any goal or objective with consistency, you need a plan.  The Sales Process is your plan, your blue print on how to turn a lead into a prospect, motivate a prospect to become a customer and help a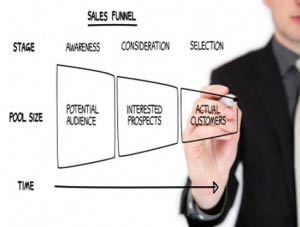 customer become a long-term client.  The Sales Process is like a funnel, where in you will deposit as many "raw subjects" as possible in the top of the funnel.  Then, each "stage" of the sales process filters and refines these subjects, finally producing a smaller amount of sales.
Professional selling is a business and a science and to be successful you must work efficiently.  A properly designed sales process will help you identify obstacles and problems within your sales system.  When sales are slow, it is not always due to poor closing rates.  A properly designed sales process will allow you to identify the obstacles that clog your sales funnel and cost you time and money.  If you design and follow a comprehensive sales process, you will move prospects systematically from "contact" to "sold" with efficiency.
Over the next few posts, I will help you design your own sales process that you can customise to fit your exact selling situation and cycle.
Step I: The Total Sales Cycle Time 
The first step in designing your sales process is to determine the optimum desired amount of time your sales cycle should take from beginning to end.  In other words, if everything went perfect, from start to finish, how long should the sale take?  How long should it be from the time you first acquired the lead or contact information, to the time you close the sale and receive the payment?
Short or Long
It does not matter if you work on a one-call close or a multifaceted, inter-departmental, sales cycle that takes several months.  In either case, determine the optimum, best-case scenario.  In addition, you need to include everything that completes the sale in this time line.  If there is financing involved, then the sale is not complete until the funds are in place.  Include all of the logistics; delivery, set up, installation, etc.
Figure out what is the length of time the sale should take from beginning to end.
Lastly, this length of time has to be a realistic figure.  Do not use a figure that represents dreams and wishes.  Use real life examples and case studies to make this determination.   Once you have a set length of time the optimum sales process should take, then you have something to compare all sales to, as they move through the process.
Next, Part II – The Sales Stages
Posting September 21, 2011
Happy Selling!
Sean

Sean McPheat
Managing Director
MTD Sales Training | Image courtesy of FreeDigitalPhotos.net