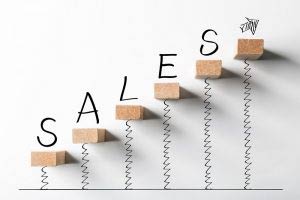 In Part I of "How to Design an Effective Sales Process," we talked about how the sales process is your blue print to convert leads into prospects and prospects into clients.  In the first step in creating your sales process, you determined the total length of time it should take to close the sale from start to finish, under optimum conditions.
With a total allotted time line set for the entire sales cycle, the next step is to figure out each stage in the sales process.  You want to determine each stage of the sale and the optimum period for each stage.  Consider the entire sales cycle, and then break it down into individual stages.
Sample Sales Stages
Below are some sample sales stages and time frames.  These are generic examples of possible sales stages and periods.  Depending on your situation, many of these examples may apply, or only a few.   This is just to give you a better idea of how to structure your sales stages and times.  Here are 12 sample sales stages from which you can determine which apply to your particular selling parameters.
Sample Sales Stages and Times 
Stage                            Time
1. Suspect                   Indefinite
I'm not particularly fond of this term, however sales people who have worked with an organized sales process before will be familiar with it.  I am referring to a piece of unqualified data.  It could be the name of a business or consumer, but it is not yet a qualified prospect or even a bona fide lead.  Note: The reason the first three stages have a time frame of indefinite is because it could be information stored in your database that no one has yet seen.
2. Lead                      Indefinite
Now you have some basic information and know that the contact could possibly be a prospect.  Often, your sales information will begin with "leads."
3. Prospect                 Indefinite
Now you have identified the contact as a viable prospect who meets your targeting, technical and demographic qualifications.
4. Working                  5 days
Now a sales person (or you) has attempted to contact the decision maker (DM) in this account. You determined that under optimum conditions, the sales person should make contact with the DM within five days after receiving the account.
5. Contact                    5 days
The sales rep has made contact with the DM, and should set an appointment within 5 days.
6. Appointment          10 days
The sales person has set an appointment, and should consummate that meeting within ten days.
7. Discovery Interaction 10 days
Rep met with DM and conducted the discovery meeting.  You want the closing interaction to take place no longer than ten days later.
8. Proposal/Closing Interaction  7 days
Sales person made the proposal and asked for the order.
9. Negotiating            5 days
Now negotiating or waiting for a decision
10. Order                    7 days
The DM has placed an order
11. Shipped                 2 days
The order has shipped
12. Sold                       3 days
Product delivered and payment received
As you can see, these are very generic stages, but you get the idea.  Also, there are many other stages you may need to use such as:
Opt-in
Literature Sent
Literature Received
Follow Up Call
Not Interested
No Sale           (There is a big difference between Not interested and No Sale)
Disqualified
Order Shipped
In Financing
You may also consider additional stages after the sale, such as:
Customer
Reorder Customer
Phase II
Expansion Customer
Client
Partner
Design the stages of your sales process.
Next up, Part III – Putting It All Together
Posting September 23, 2011
Happy Selling!
Sean

Sean McPheat
Managing Director
MTD Sales Training | Image courtesy of Big Stock Photo