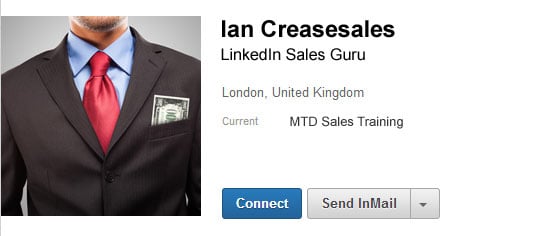 For many salespeople, LinkedIn is a bit of an anomaly; they know that many people can be found on it (over 351 million people, at the time of writing), but they don't have the time or knowledge to develop their profile as it hasn't brought them any business.
Your profile can be as good or as bad as you want it to be. If you see it as 'the sales professional's Facebook' you may be missing the point and missing opportunities.
Your LinkedIn profile can often be left neglected and unloved, as other seemingly more important things take precedent over what is essentially a background portfolio for many salespeople. But just a few tweaks, one or two small changes, may make you stand out from a big crowd.
Here are just three little things you can do that may make a big difference:
Your Professional Headline should make people aware of what you can do for them
Many people's Professional Headline simply acts like a business card. Saying something like 'sales Consultant at ABC Ltd' or ' Business Manager with XYZ' says nothing about what you can do for people.
Instead, you Headline should shout out how you help businesses succeed or what results you have got for companies. You have up to 120 characters to convince people why they should approach and use you. Think of it as your 'elevator speech' that can be said in just a few words.
An example is: 'Sales at A Printers Ltd – I help SME's reduce their printing costs by 24%'
Here's another: 'BDM at BA Coach – helping people be the best they can be! Trainer, Speaker, Coach & Customer Service Specialist'
Your Headline goes with you everywhere; when you ask someone to connect, when you place a comment in a group, when you request information, when you share an article with a client or prospect, and a myriad other times.
A great Headline that says how you help companies or people to succeed will attract more interest, especially if it's something intriguing.  Think: How do I help businesses succeed? What would make people sit up and say 'Wow, I need to talk to this person'? Use those 120 characters wisely!
Your summary should make people think 'I want to know more!'
Many people use their LinkedIn summary like a CV, outlining what they do or what they've done.
Instead, write it so that you answer the following questions:
What results have I achieved for companies and individuals?
How have those results benefitted businesses and others?
What skills do I have that will be useful to others?
If you worked with me, this is what you would get
Write your summary in the first person, and make it original, outlining why the viewer of your profile should get in contact with you. It's your opportunity to get leads coming proactively to you, instead of making hard work of cold-calling and the challenges that brings.
Get recommendations! – They act as your testimonials and referrals!
The 'Recommendations' section is probably one of the most neglected parts of the LinkedIn profile and it's easy to see why. Most people are unwilling to ask someone to recommend them as it seems too pushy or rude.
However, a healthy list of recommendations can be used to show prospects how you have helped others in similar industries or situations. Imagine having a portfolio stuffed full of people's positive comments of how you've benefited their businesses. Wouldn't you be willing to show that to everyone who asked? Then why hold back from asking for a quick recommendation from a client you've helped?
It's easy. You can either make a quick recommendation for someone else and ask them to return the compliment; or you can write a quick three or four lines for a client, send it to them, ask them to make any necessary changes and add it to your profile.
A large number of recommendations is like a suite of testimonials saying how good you have been to them. When someone asks why they should use you, you can quickly send them to your LinkedIn profile, get them to click on 'recommendations' and there is a list of satisfied customers who wax lyrically about the results you have achieved for them.
These simple tips can make a real difference to the amount of business you can attract. If you'd like to know how MTD can help you with your LinkedIn account, contact us and we'll give you the lowdown on how to make your profile stand out.
Happy Selling!
Sean

Sean McPheat
Managing Director
MTD Sales Training | Image courtesy of Dollarphotoclub