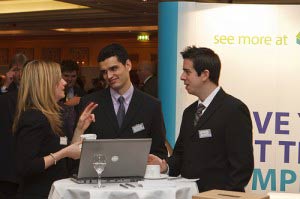 The prospect stops by your booth. You make a connection and engage in a productive conversation, discussing possible interests and developing some rapport. Then a few days, a week or more later, you call the prospect back, only to find that the situation is the equivalent of a cold call.
If you have ever returned from a trade show or other type event, with a basket full of business cards; then you are familiar with that awkward, unpredictable moment when you make that second contact and you don't know what to expect.
Below are a few tips to help you better control and cultivate those leads and take some of the chill out of that after-the-event follow-up call.
#1. A Definitive Next Step
When you have that meeting at the trade show booth, you want to conclude the conversation with a clearly defined next step. Perhaps you will contact the prospect to set up an appointment. Or maybe you agree that you will send further information or send a quote. Whatever the next step, make sure you clarify it, and let that be the last thing the prospect hears.
"Sarah, again, thank you for stopping by our booth, and I will contact you next week to talk about setting up a skills assessment for your staff."
"I will call you in a few days Steve, and send you a detailed outline of the program design."
"Ken, I will call you Friday after you get a chance to check your calendar, and we can arrange a time when we can get you together with one of our technical instructors."
#2. Take Image Notes
You also want to note more than just the basic interests of the prospect. You built some rapport with the person at the show and you noted that she was interested in your XYZ product. However, most of the times, a few days later, you will have no reallocation of that person; their personality, speech patterns, appearance. You will have completely lost the "feel" of the conversation and hence the rapport. Therefore, when you call back, you have to begin all over again. That is a cold call.
Instead, make notes on the image and personality of the prospect. If you do not have some type of a lead form, then have some small slips of paper that you can make notes on and attach to business cards. Jot down things that will remind you of the person you met:
"Tall guy in brown suit, made lots of jokes…nice funny guy"
"Woman who had the very hard handshake and talks really fast…"
#3. Begin Where You Left Off
Now, on that second contact, use the above information to help make that call a little warmer. Begin exactly where you said you would begin and remind the prospect of who you are and what you spoke of. Do not make the mistake of expecting the prospect to remember you or anything. If they do, that's great. But do not assume they will recall your meeting.
"Hi Sarah, Mary Smith with AOK Copiers. We met briefly last week at the, 'What's new in office equipment show,' and we spoke about setting up a skills assessment for your staff…"
"Yes Ken, Ethan Robert with Exacting Software. We met at the PC Fair on Monday. You know, I am still laughing at that golfing joke you told me…Anyway, we were looking to arrange a time to get you together with one of our technical instructors…"
In addition to those three effective tips, remember that you have to make those contacts fast. Don't wait weeks to follow up on trade show leads.
Happy Selling!
Sean

Sean McPheat
Managing Director
MTD Sales Training | Image courtesy of Estate Agency Events at FreeDigitalPhotos.net