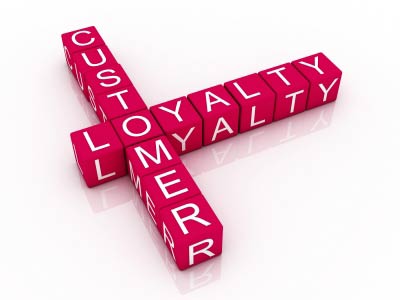 There is a saying that customer satisfaction is useless; customer loyalty is priceless.
This is well-explained when you consider a familiar scenario. Have you ever visited a restaurant and been 'satisfied' and yet never gone back there? I guess you have. If the restaurant measured their success by satisfied customers, they might end up being puzzled why they don't get more repeat business.
Satisfaction just means the quality or service has lived up to your expectations. Nothing more, nothing less. Unless there has been a valid reason (excellent food, great service, etc), you may or may not return. Satisfaction doesn't equal loyalty.
For your customer to maintain their loyalty to you over a period of time, there are three key components that will help you achieve that end goal. None of them are difficult to implement and maintain. It just takes consistency of approach and a dash of desire.
1. Provide exceptional customer service in a safe, timely and professional manner and at competitive rates. See? Not difficult. In fact, pretty obvious. The real acid test is in how consistent you are in delivering it. Anyone can offer this level once in a while. But when challenges are faced, when times are hard or when resources are low, that's the time when we start making excuses to clients and to ourselves. Excuses don't cut it when it comes to real loyalty from advocates and raving fans.
2. Provide personalised and customised service for each customer, based on your understanding of what he/she values in the customer-relationship, thereby converting repeat customers to loyal customers. By personalised and customised, we are referring to how we treat each customer who comes our way. Customising individuals is about identifying the true need at each step of the way in the customer journey. The more personalised the customer feel they are being treated, they more likely they are to have well-founded reasons why they should think about being loyal to you.
3. Deliver that value 100% of the time. This is where the consistency comes in. This is where we differentiate ourselves by being dependable when customers require it and approachable when things go wrong. Anyone can do this when it's easy – the rational-thinking person will develop loyalty when they see that you carry out the first two components whenever they require it, which is every time they give you their business!
Loyalty is earned by diligence, experience and hard work. If you want success with loyal advocates extolling your company to everyone they meet, adopt the systems that will allow you to deliver the components above and see if profits and revenue don't rise, as you encourage customers to show their loyalty.
Happy Selling!
Sean

Sean McPheat
Managing Director
MTD Sales Training | Image courtesy of Jeanne Claire Maarbes at FreeDigitalPhotos.net