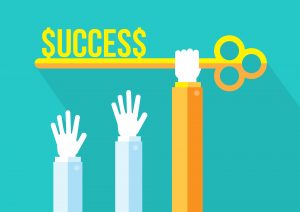 I came across a great quote the other day from Jeff Gitomer, the proficient sales writer from the States.
He said that 'Great salespeople aren't born or made; they evolve over time based on their dedication to excellence and their willingness to serve'. 
This struck me as a great philosophy to live by, and I just want to highlight three aspects of his quote.
Firstly, salespeople evolve their skills over time.
This is an important idea, as it presupposes that there are no revolutionary ideas that instantly bring success.
It's down to dedication and hard work.
In fact, Jeff often says that many salespeople don't want to do the hard work that makes selling easy.
This fact is self-evident when you study the really successful salespeople in the world.
Their success has evolved over years of dedication and following the structures of success that produces results they wouldn't otherwise achieve.
Also, the idea of evolving means that you get better and better over time.
Charles Darwin said that 'it's not the strongest or fittest who survive….it's the one most adaptable to change'.
If we adapt our skill-sets to the changing environment, there is no reason why the  results shouldn't follow, as this adaptation helps us to build strategies that work in different and changing circumstances.
Secondly, Gitomer says that great salespeople are 'dedicated to excellence'.
This creates a mind-set that goes beyond the norm.
There's a big difference between having an excellent game and having game-excellence.
The former often involves a one-off result; the latter depicts consistency of approach and a sharing of best-practice.
Being dedicated to something involves perseverance, committed, devoted, resolute in the face of obstacles, unwavering and whole-hearted.
Dedication to excellence, therefore, means that we don't take setbacks personally, but recognise that the journey to the sale needs resolution and the ability to find alternatives ways when there are blockages in our way.
Excellence means more than just going the extra mile.
It involves learning from experience and admitting when we could be doing things better.
There's a saying that 'the enemy of the great is the good'.
Don't let just being good get in the way of being great.
Thirdly, Gitomer mentions 'willingness to serve'.
This is a key element in the overall picture of greatness.
Many people see service as servile, beneath their level, as it were.
Service, though, should be a pre-requisite to greatness, as we offer something of real value when we offer our service.
By giving much more than we expect to get back, we create a value proposition that builds emotional connection and a real connection between you and the person you are offering your services to.
So, create a mind-set that only accepts greatness in your life.
Don't accept being average or mediocre.
Be dedicated to excellence and be willing to serve, and you'll see major differences in your results.
Happy selling!
Sean

Sean McPheat
Managing Director