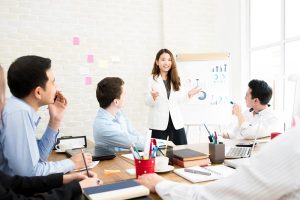 Very often, we see top quality salespeople made up to be sales manager and expected to deliver immediate success, as if they already have the necessary skills to succeed in that role.
Think about it; just because they have been successful in one position doesn't automatically ensure success in another.
Many salespeople are excellent at organising themselves, can sell very proficiently and have achieved excellent results.
But when it comes to getting the best out of others, they suddenly find themselves in a no-man's-land and start floundering.
Of course, a Sales Management Training programme will help but if you can't find the time or the budget to attend then here are some tips if you want to succeed in the first three months or so in the role as a new sales manager:
Recognise that you are now managing a team and not selling.
This seems pretty obvious, but many salespeople-turned-managers still want to maintain contact with 'their' clients and still keep the figures up.
If that's the case, not only will you be a full-time salesperson, but you'll also have all your managerial duties to perform.
It's just not possible.
Unless, of course, you want to do 100-hour-weeks!
Put together sales processes that unmistakably and explicitly define expectations for your sales team.
You need to provide specific, measurable guidelines so they can manage their processes quickly and easily.
Decide who on your new sales team has the right skills and who needs developing.
You now need to decide on the right development tools for each person, be it mentoring, Sales Courses or Sales Coaching so that each one has the necessary tools to accomplish what you will be requiring of them.
Determine a coaching schedule to assist each person on an individual basis.
You need to help them plan their activities and objectives in the same way that made you so successful.
Remember, you were put into your new position because of your successful background and experience.
You want to build on that so the people who now rely on you to help them succeed can benefit from your knowledge and understanding.
By showing your qualities early in your new career, there's no reason why you shouldn't see the benefits of successful results very soon.
Please download our FREE Resources bundle to help you coach and develop your people. It contains audios and PDF's to help.
If you're looking for an Online Sales Manager Course or some Sales Training for you or your sales team we can help.
Happy Selling!
Sean

Sean McPheat
Managing Director