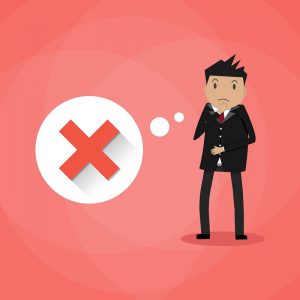 Presenting the solution to a client's needs is often the most interesting part of the sales process, especially for the sales person, because they are talking about their products, their services and they're on home ground.
And it's mainly because they are presenting that common mistakes are made, eroding the confidence of the prospect in not only the product but also the salesperson themselves.
I've come across many mistakes made during this part of the process, and I've listed five of them here:
1) Presenting too early. If you went into a doctor's surgery and he immediately summed up what was wrong with you simply by looking at you, and he gave you a prescription as a solution for your illness, how would you feel? Well, if you present a solution to your customer without digging deep into the challenges they are facing, you're doing exactly what that doctor does. You're prescribing before diagnosis. Remember, don't present a single solution until you're sure what the problem is, and the only way you can do that is by asking appropriate questions.
2) Not linking your solution in with the customer's challenges. I remember a double-glazing salesman presenting his product to me once. He spent over 20 minutes going through the product and its features without asking me once whether this was the appropriate product for me. You need to identify the challenges your customer is facing and then determine how you can solve it, by linking the solution with the problem.
3) You concentrate too much on features and benefits, without making it clear how those will help the client. If the customer has to do all the work to determine how the product and
service will benefit their business, they won't always see the value clearly. Only talk about the product in terms that will add value to the client.
4) You don't talk about how the product will change the future for the client. If you simply talk about how good the product is and concentrate on that, most customers will switch off. Instead you need to paint a picture of what will be different for the client in the future while using your products. Without that vision, you're selling purely a commodity.
5) You don't prepare for possible objections. You've heard them all before, but many salespeople act as if it's the first time they have heard the particular objection. Prepare a number of ways of dealing with objections and actually bring up the ones the client might likely use while giving your presentation. And answer it along the way.
An example might be:
"Now, Mr Prospect, you've probably seen in your research that we are a bit more expensive than some of our competitor products. We've built these to highly exacting standards that means we can give a five-year guarantee with ours, where the competition only offer three years.
We have so much confidence in it and that allows us to beat the competition in that area. Hence the reason why we sell a premium product at a premium price. We decided to do that five years ago and it's proven to be the right choice".
That way, you cover your price differential before the customer brings it up.
So those are just five of the mistakes I've seen in many presentations. If you can avoid them, you are doing yourself a favour and improving your chances of success.
Happy Selling
Sean

Sean McPheat
Managing Director