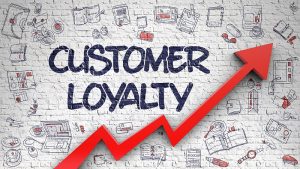 I was speaking to one of our clients this week about his job role. He's an account manager. So he manages accounts. Sounds good. Every account we have needs managing.
But his gripe was concerning the fact that he has to spend so much time looking for new business that he seldom has enough time to develop business with his current accounts. He is worried that he's missing opportunities to develop loyalty with his existing client base.
There's no doubt that the fastest way to generate revenue is to grow existing accounts.  But most companies seem to spend a lot of time looking for new business, hence leaving poor  account management programmes in place for existing customers.  Often, these programmes are more focused on customer satisfaction than actually getting more business from clients.
I told this account manager that he should be spending more time developing strategies that grow existing revenues with current clients.  They're the ones who know you and your services best. So, you should be creating real reasons why your existing clients should be interested in doing more business with you, so that their business improves.
Here are some thought-starters.
Make an analysis of which clients buy which products and services from you. Are there some gaps that you should be pursuing? Do you sell products that some clients buy and not others? Is there a market for those other products with existing clients? Do they buy some products or services from other suppliers? There may be opportunities you are missing.
Build loyalty by creating offers only available to current clients. This serves as a kind of loyalty bond, and encourages the client to think of you when they need more products, rather than trying the competition.
Invite them to customer focus groups. An incentive to attend one of these groups could be to help you develop your future products and services, while in return getting better payment terms or closer account management.
Consider building symbiotic buying relationships with the client. This will encourage them to partner with you and will get you deeper into the buying process that they are using when they choose a supplier
Create value through partnering. How many of your customers sell at trade shows and exhibitions? Offer to work with them in setting up the exhibition.Make them look good in their customers' eyes. Determine how you can increase their expertise in their field. They will start asking you for your advice and listen to your recommendations.
Develop on-line business by using them as a case-study of success in your newsletters. When your client sees their company used in a successful way, they see the relationship with you deepening and you become even closer partners
These approaches will convince your current clients that they made the right decision partnering with you, and you will see customer loyalty increase.
So, spend more time on building loyalty with existing customers as well as looking for new prospects. You know it makes sense!
Happy Selling!
Sean

Sean McPheat
Managing Director