Today's buyers are a lot more sales savvy; they conduct research online about your products and services, your company and your competitors all with a few clicks of a mouse. The internet and social media in particular are now your buyers' best friends, as it puts them in control of the modern day sales process, so what are you doing to redress this balance of power?
Here are some scary facts and figures for you:
90% of buying decisions are based on internet research – Gartner research
2 out of 3 decision makers place more trust in their own research than in sales people – Market Transformations
80% of sales are lost because the salesperson failed to establish an element of trust and credibility with the buyer – The Marketing Edge
The way your buyers make their purchasing decisions has changed, but are you changing the way that you sell? Social media can be a powerful sales tool when you know how to get the best from it, especially when it comes to using LinkedIn.
You've definitely heard of LinkedIn, you might even have a LinkedIn account and you've heard of the benefits and the power that LinkedIn can provide you in terms of prospecting and selling….but your LinkedIn account is just sitting there gathering dust simply because you don't know what to do with it!
Or is it because you have yet to be convinced of the real value of the site? Well, he's a few LinkedIn stats for you to digest:
1 new member joins LinkedIn every second – LinkedIn Press Centre
Over 40% of LinkedIn's users work in companies with more than 10,000 employees – LinkedIn Ads
Nearly 50% of the LinkedIn members are in a decision maker role (such as Manager, Director, Owner, Chief Officer or Vice President) – LinkedIn Ads
Considering this information, it's unsurprising to find out that in a recent survey conducted by advertising agency OgilvyOne found that 93% of UK sales professionals have received no training in using social media, and 53% of these want help with learning to use social media platforms as a business tool.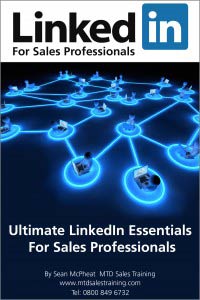 As a modern day sales professional it is so important to understand how to harness the power of LinkedIn for your business, and MTD Sales Training are here to help.
We have created a complimentary report for you which will help you to understand how to get the most out of LinkedIn as a business tool.
"Ultimate LinkedIn Essentials For Sales Professionals" is free to download and will show you how to tap into the potential goldmine of prospecting resources and additional sales opportunities that LinkedIn has to offer. With a killer profile and the right approach to hunt out, prospect and engage with your target market, you will maximise your prospecting time and generate qualified leads.
Simply click the link below to download your copy:
https://www.mtdsalestraining.com/lireport
If you still need convincing of the power of LinkedIn or if there's anything you would like to ask me then leave me a comment below and I will get back to you.
Happy Selling!
Sean

Sean McPheat
Managing Director