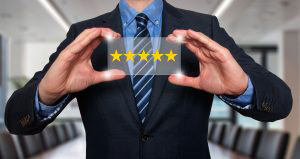 Harvard Business Review (HBR) discussed an interesting concept recently (Sept 2016) where they were comparing what customers actually buy and what sellers offer to sell.
Of course, people don't buy the product for what it is (hence features and advantages are becoming less salient to consumers) but they do buy what it will help the customer to accomplish.
For instance, people don't buy insurance; they buy the peace of mind insurance will give them.
They don't buy a car; they buy the ability to travel from A to B in a way that corresponds to their specific wants and needs (economically, with style, in comfort, etc, etc).
What HBR said was we need to create the right set of experiences for the purchase and use of the product and then integrate those experiences into your company's processes.
They said when a company does that, it's hard for competitors to catch up.
The example they used was that of American Girl dolls.
If you don't have a pre-teen girl in your life, you may not understand how anyone could pay more than a hundred dollars for a doll and hundreds more for clothing, books, and accessories.
Yet to date the business has sold 29 million dolls, and its revenue is more than $500 million annually.
What's so special about American Girls?
They're nice, but they aren't amazing.
Yet for nearly 30 years they have dominated their market.
American Girl has prevailed for so long because it's not really selling dolls; it's selling an experience.
Individual dolls represent different times and places in U.S. history and come with books that relate each doll's backstory.
For girls, the dolls provide a rich opportunity to engage their imaginations, connect with friends who also own the dolls, and create unforgettable memories with their mothers and grandmothers.
For parents—the buyers—the dolls help engage their daughters in a conversation about the generations of women that came before them— about their struggles, their strength, their values and traditions.
A trip to the American Girl store has become a special day out, making the dolls a catalyst for family experiences that will be remembered forever.
What has to happen to make this special to the child?
The child doesn't want to see some shrink-wrapped doll coming out of a box.
The fact that she has to wait just a split second to get the belly-band off and open the tissue under the lid makes it exciting to open the box.
It's not the same as walking down the aisle in the toy store and picking a Barbie off the shelf.
Do you see your product as simply that – a product?
Or do you think about the experience you are trying to offer the buyer or customer?
The American Girl Company shows that it is possible to take a standard product and turn it into an event to purchase, a joy to own and an experience to look after.
See what you can do to help prospects have an experience in working with and owning your products.
Decide how you can increase the connection a prospect can envisage with your product.
Identify how your services can enhance the experience, and you'll see a different side to your clients.
Happy Selling!
Sean

Sean McPheat
Managing Director
MTD Sales Training | Image courtesy of Dollarphotoclub