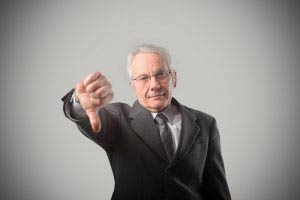 Is it possible to get everything right with every customer? I think you'll agree that it's very difficult. Dealing with disappointed customers is something that all businesses need to get right. Research shows that around 70 % of people will do business with you again if you can resolve their problem or complaint, and this rises to over 90 % if it's done immediately.
Here are some ideas that you might use if you've got customers where your standards fell a little short:
Firstly, Acknowledge it. If you ignore it, it won't go away. If things go wrong, it doesn't mean you'll automatically lose that customer. Acknowledging you've got it wrong can actually mean you care and is the first step in turning a situation round.
Be proactive with it. Ask yourself…What are the things that typically disappoint your customers? Get your team together and identify typical or regular problems, and then develop ideas and solutions to sort it out. Put processes and systems in to deal with it. But make sure that any response is personalised to the specific complaint.
View complaints as warning messages, and learn from them. If a product or process changes as a result of a disappointed customer, then every benefits, as it shouldn't happen again.
Devise a culture of openness and listening, so that any disappointment is grabbed as an opportunity to turn things round and do better next time. If you meet problems head on, you are in a better state of mind to deal with them, rather than deny them, or blame the customer for being too fussy/picky/ignorant (or whatever) to deal with it
It may not be possible to get everything right first time with every customer, but if you deal with it appropriately and learn from it, you reduce the chances of it happening in the first place.
Happy Selling
Sean

Sean McPheat
Managing Director
MTD Sales Training | Image courtesy of Big Stock Photo