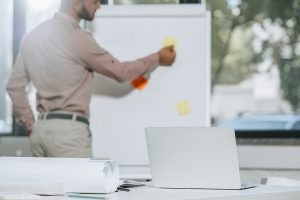 Having achieved the goal of setting a sales meeting with a customer or prospect, what would be the best way to ensure, as much as possible, its success?
Follow these five ideas in order to make sure you are fully prepared and confident when approaching the meeting:
1) Have a clear purpose
As the saying goes, if you have a big enough 'why' you can achieve any 'how'.
By knowing what you are trying to achieve with the meeting, you have a much better chance of it going in the right direction.
It has to be specific and achievable.
Try to make it within your control too.
Having a purpose of 'Get them to sign up for a year's subscription for all their staff' at the first meeting may not be the best objective to aim for, especially if you don't know if your product would be right for their staff.
Have a goal that will be achievable dependent on the type of meeting and how far down the sales road you are with them.
2) Ensure all the logistics are taken care of
Make sure you know the basics, like the venue details, how long it will take you to get there, what the parking arrangements or train station details are, and the specific time you are expected.
Plus, who specifically will be at the meeting?
Can you find out some background about them on LinkedIn or other sites?
It may sound obvious, but you'd be surprised how many salespeople leave the logistical arrangements till the last minute and are then left panicking as the stresses of time pressures force last-minute alterations.
3) Prepare based on what you consider the customer's concerns may be
You will no doubt have details about what the customer's expectations will be from the meeting.
But what concerns might they bring up?
What differences are there between this customer's needs and past client's?
By preparing answers for these sales questions you'll feel more confident that you can cover issues during the meeting rather than having to go away and prepare more information later.
4) Ensure you're prepared with for all possible contingencies
It's never possible for you to be prepared for everything that may occur, but there are a few things you could look out for.
For example, make sure your battery on your laptop is charged, just in case there's a problem with your power lead.
Have more items than necessary to give out at the meeting, just in case more people turn up.
In other words, expect the unexpected.
5) Confirm arrangements on the day
There have been many occasions where salespeople have travelled many miles, only for the meeting to have been cancelled that morning and you hadn't checked your inbox. That's Sales Training 101! You must be prepared.
A quick confirmation call to the stakeholder just before you leave is not only polite and professional, but could also save you a wasted trip.
Last-minute emergencies will always occur, but give yourself the confidence of being in touch with the meeting organiser, maybe giving them your mobile number just in case.
You can never be too over-prepared for things like that to happen.
By carrying out these ideas, you at least should feel a little more confident that the sales meeting will hit the objectives you have planned for.
Check out our Sales Skills Training for further options on how to improve. Our Sales Management Training will also help you to develop your skills to lead and manage your sales team to ensure that their sales meetings are always well prepared for.
Happy Selling!
Sean

Sean McPheat
Managing Director