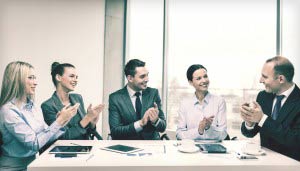 Once in a while, I come across a film or video that makes an impression on me and I say to myself that I have to let as many people as possible see it.
This particular short film amused and intrigued me at the same time. You know when you fly in an aircraft that the safety film is really important, but most of the passengers simply carry on reading their newspapers or talking to their fellow passengers.
This film is guaranteed to have you sitting up and paying attention. Enjoy!
:
It's a great example of how to 'sell' safety by making it interesting, informative and entertaining.
It may not be possible for you to make a film of your products or services like this but you could think about how you can appeal to your prospects' sense of curiosity and wonder the next time you present.
Happy selling!
Sean

Sean McPheat
Managing Director
MTD Sales Training | Image courtesy of Big Stock Photo