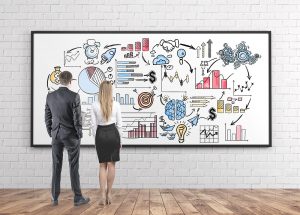 Here's a question to get you thinking:
What do you need to do today, tomorrow and next week that would have the biggest impact on your business growth?
It's a far-reaching question that determines how and where you should be spending your valuable time.
It focuses on what are the most significant areas for you to concentrate and focus on that will bring the biggest returns.
One aspect that we consider to be valuable to you is that of journey mapping.
It might be a term you're not that familiar with, but could make a valuable difference to the work you carry out with both new and existing customers.
Journey mapping can be considered as an in-depth analysis of how your customer's experience is mapped out in their dealings with you and your company.
It should show you where your systems are working but also where you are missing strategic points in the journey.
You start by identifying the stages a customer goes through in their relationship with you.
These may come under a variety of headings, including, but not limited to, the following:
How customers find you
How you research their business
How they make the purchase decision
How you deliver to, and exceed, their expectations
How you deal with follow up and the long-term customer experience
At each of these strategic points, it would be good to determine the areas you wish to concentrate on.
These may revolve around:
Purpose: What is the customer's purpose in contacting you? Why would they need your services?
Discovery: What information does the customer need to reveal to you so you can help them?
Moments of Truth: What are the interaction points the customer has with you?
Strengths and weaknesses: What have you got that will benefit the customer? What can't you provide that the customer might want?
Experience: What processes does the customer go through when they are in the buying cycle?
The journey can then be plotted effectively by looking at what the interactions are with the customer at each point.
For example, under the heading 'How customers find you' you can log the marketing processes you use that gains the attention of the customer.
Do they find you through your website?
Have they contacted you through LinkedIn?
Are they following you on Facebook?
Is your social media presence attracting the kind of prospects that will be good for your business?
The journey gives you indications at each point what makes up the customer's overall experience.
When you see the issues at each point on the journey (we often call these points 'milestones'), then you can highlight the areas of concern and determine what changes you can put in place to monitor those issues.
So, think of these five steps you need to take to determine the customer's journey and work with them to ensure the mapping you make helps you achieve then best experience for the customer:
1) Understand what your customer's requirements are at each point on the journey, pre and post-sale. What happening at the moment in your process?
2) Meet with others in your company who can add value at each point on the journey. Could you do something with costs and revenue? Could the customer experience be monitored effectively at this point?
3) Determine how you can make each stage of the process valuable to your customer and revenue-increasing for you as a business. This can identify who your ideal prospect might be and acts as a focus for you to target future customers.
4) Ask yourself the question again… What do you need to do today, tomorrow and next week that would have the biggest impact on your business growth? The answers to the last three questions will help you answer this one
5) Identify how you should spend your time as the customer's journey is mapped efficiently. This will give you focus when you ascertain the best areas to work on when helping the customer on their journey
Each of these points should help you to map out the experience you wish your customer to enjoy when they are working with you.
A clear and precise map will help you on that journey and ensure you spend the right amount of time concentrating on the right areas.
Happy Selling!
Sean

Sean McPheat
Managing Director