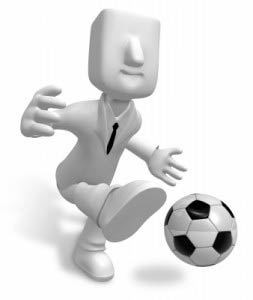 I read an interesting article in the Guardian last Friday about how young Dutch footballer's skills are perfected by their coach.
The method?
They get them to actually kick the ball 10,000 times a day in sets of 100-200 repetitions at a time.
They work with their young players in various drills. A mixture of toe-touches, dribbles, Cruyff turns and the like!
Go on over and read the article "Practising Perfection By 10,000 Touches" – it's a fascinating read and insight into drilling excellence.
By carrying out these drills over and over again it becomes second nature to them and countries like Holland and Spain have worked out an almost formulaic approach to churning out great players by getting to them early and by cultivating excellence in this way.
It's a process.
This got me thinking about the best sales people I've come across over the years and the best sales teams.
In terms of the top performing sales people…
They read books, attend training, learn from their peers and are committed to continually improving and perfecting their skills.
It's not going to be as radical as 10,000 touches per day but they do something every single day to improve and hone their skills
The bottom line is that you need to practice over and over and over again to make perfect.
In terms of the top performing sales managers…
They churn out top performing sales people by having a training and on-going performance improvement process for them. From the moment a new starter joins they enter a system and a process to get them performing as soon as possible and then keep them performing.
Nothing is left to chance!
The lesson…
Don't leave anything to chance or luck.
Develop a system and a process to improve.
Whether you are the player or the coach make sure you're committed to excellence in all that you do and give yourself the best chance of success.
Happy Selling!
Sean

Sean McPheat
Managing Director