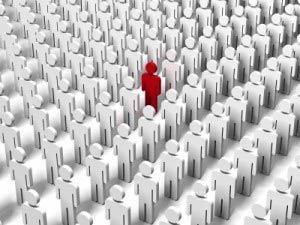 Ask buyers what their main decision-making criteria are and you're bound to get a plethora of answers that revolve around the company's goals, the saving of money, the reduction of risk, the efficiencies of running the business, and a host of others. Their main concern is how you can help their business succeed and gain credence in the marketplace.
Some of their decisions may revolve around their own needs but these are often overridden by the needs of the organisation or their department.
When selling to an entrepreneur, however, their needs may well be different to a larger organisation, so how do you structure the sale so that you appeal to this particular type of buyer? How do you make your company stand out against the crowded market?
Firstly, remember that their needs and desires are, and will always be, more personal that the large organisation. They may prefer flexibility and adaptability in their approach. They may feel they can be and, indeed, have to be, unique in their approach. They may feel they have to offer personalised service to their own clients.
With this in mind, you should approach the entrepreneur on the basis that you are best suited to cope with their unique demands. You could say something like:
"We pride ourselves on responsible, accountable, flexible and thorough. We follow through on everything and cover all eventualities, so you can leave all those little details to us."
What you're effectively saying here is mirroring how he or she would like to be viewed by their clients, and you're hitting the hot buttons that drive decision-making in the entrepreneur's mind.
Two of the main driving forces that support entrepreneurial thought processes are personal independence and products or services that reflect their unique situation. They want to do business with suppliers who consider them important enough to warrant flexible and special treatment.
Entrepreneurs believe that they are different from all other companies and want to be treated that way, so aim to be the kind of supplier that can show flexibility and responsiveness that will set you apart. Of course, you probably don't have to be that different from the service you offer your other clients…you just have to be perceived as doing so.
This sense of uniqueness that the entrepreneur feels should help you to position yourself as their company of choice. They often complain about their lack of resources and if you can discuss how your company back-up services can assist them in dealing with this perceived lack, then they will see you as an additional asset to their portfolio of offerings.
Many entrepreneurs are time-poor as well, having to deal with a lot of business issues that they wish could be taken care of by someone else. If you can take the pressure off them and show how you can assist in these areas too, they will determine the extra value you can offer them. Show them how you can enable their sense of independence in the market-place, and you open up the door to more reasons why they should choose you as one of their key suppliers.
Happy Selling!
Sean

Sean McPheat
Managing Director
MTD Sales Training | Image courtesy of Master Isolated Images at FreeDigitalPhotos.net