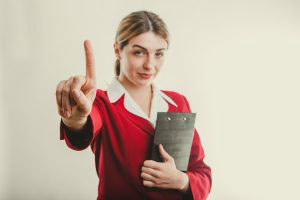 So, you've got the appointment…
I recommend that you send some further information to the client BEFORE you meet with them.
I'm not talking about an information pack here or a brochure.
Instead, I am talking about sending them something that will position yourself as an expert.
Something that will get them to know you better.
I usually send our clients a physical sales tips newsletter full of ideas and strategies to improve their sales.
I also send them my biography so they can "Get to know a little bit more about me" before I arrive.
Within this are press cuttings, newspapers I've been featured in, my numerous TV apprearances etc.
Why am I doing this?
Well, I am positioning myself as an expert in the field and I am preselling the client on both MTD and ME.
When I turn up they already have a picture of what I am like in their minds and this improves my credibility.
90% of the time they always start by asking a question about the info I sent them like "How did you get such great coverage in the Guardian?" or "What was it like to be interviewed on CNN?"
This builds rapport and positions me as an expert.
QUESTION – So you may not have a lot of media credits to your name, if you have, great and you should use these, but what could you do to presell yourself and your company before you meet with your client?
By doing this you will make it a whole lot easier for yourself during your meeting.
Happy Selling!
Sean

Sean McPheat
Managing Director
MTD Sales Training | Image courtesy of Dollarphotoclub