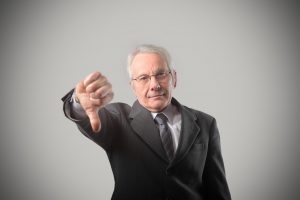 Howard Feiertag is a leading writer in the hospitality industry. He wrote that there are six main reasons why a company will lose a customer and why that customer will never return.
The six reasons he lists are death, the fact that they move away, they buy from a friend, they prefer a competitor, they are dissatisfied with the product, or they experienced an attitude of indifference from the supplying company.
Now these reasons will naturally affect you and your customers, too, but which reason do you think is the main reason for the defections? And what percentage applies to all these reasons.
Feiertag's research shows that, in the hospitality industry, one of these reasons stands out by far. And I would guess that these figures pretty much apply to most industries. Let's take a look:
Death – Sadly, some of our clients will meet the reaper sooner than we would like, but they only make up 1% of the total defectors.
Move Away – Our clients may move their businesses, or the main buyer may leave the company and the new buyer may not use you. According to research, this accounts for about 3% of clients
Buy from a Friend – Some other clients may actually buy from a company because they know the supplier personally. You might be a friend, too, but 4% will still leave you for this reason
Prefer a competitor – Your competition may come up with a special offer to lure your client away. If you haven't built up a close relationship with them, the last you may hear from them is their answerphone, as they don't pick up the phone to your calls any more. This accounts for 9% of the defectors
Product dissatisfaction – We can't please everyone all the time. Sometimes our products are simply not good enough, or something happens that causes them to be dissatisfied with our offerings. Another 14% leave because of this.
That leaves one last reason. And you'll probably notice that the previous reasons, in the majority of cases, are outside of our control. However, this main reason is certainly within our control, and it's the attitude we show to the client. A whopping 68% of clients, according to Feiertag, leave because of apathy by the supplier.
O, brother, that's more than 2 out of 3 of your lost customers!
What can you do to ensure you don't suffer from this experience?
Ensure you know the level of service your customer expects. Some customers want you call every other day. Some want only new updates. Others want a visit every three months. Find out what your clients' expectations are in this area of contacts. Then match them.
Be the first port of call when your client has a problem. You might not be involved in shipping, but you want to know when your customer's delivery hasn't arrived. It saves you having a big shock on your next visit.
Use personal follow-ups, thank you notes, phone calls or other ways to make sure your customer knows you appreciate their business. These personal touches can mean a lot. Find out the buyer's birthday and send them a personal card, not an email. It will make an impression.
Remember: Your clients want and need reasons to keep the partnership going. Don't neglect them while seeking out new clients.
Your attitude is contagious…is yours worth catching?
Before I sign off, here are some more tips on becoming a great sales person:

Happy selling
Sean

Sean McPheat
Managing Director