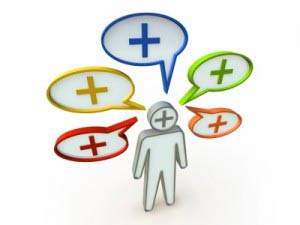 I believe in the power of positive thinking as much as anyone does, and in fact, more than most people. However, the truth is that sometimes, even if it is only on rare occasion, the proverbial bottom falls out, and thinking yourself into a positive attitude, just isn't going to happen.
The fact is that some things can hit you so hard and are so tangible that it leaves your head spinning and unfocused. Yes, there are a few mental exercises that you can do to help; but you really need some tangible, physical actions to get your mind back on track. Try these two simple, yet effective action items.
#1 – Short Term Work Ethic Goals
When things are bad, that usually means sales are in the crapper and income is tight. It is only natural at that time to focus on more sales and revenue. However, when that does not happen, it drives your attitude further in to the dumps.
Instead, set very short, sales activity goals that you can accomplish every day. For example, set a goal to make 5 more phone calls than the day before. Or, set a goal to send out 20 more emails this week than the last week. Do one additional sales presentation than you did last week.
Not only do these sales activities increase the chances for the sales you need, they also help you see real successes every day. They are tangible objectives that you can accomplish, and they are positive!
#2 – Check the Numbers
Do some detailed sales reporting on yourself. When you check your sales activity numbers, you will find one of two situations:
a. You have not been doing what you should and that is the reason why things are bad. For instance, you know that to be consistent you must do 5 presentations per week, but the data shows that you have only averaged 3.5 per week over the last two months. At first, such enlightenment will make you feel even worse. However, it is short-lived because you can easily change this situation; you can fix it. You can also see how this works so well with Tip #1!
b. You find that you have been doing everything right, all the numbers are on or above par. When this happens, you should jump for joy! In such a case, the law of averages owes you a huge payday. Don't misunderstand me. I am not talking about psyching yourself up. If you have a concrete closing average of 20%, yet without any changes to other factors, you have closed only half that for a while, your closing average must eventually come true.
So check the numbers and you will see that either you owe the street, in which case you can get out there and work things back into order. Or, the street owes you, in which case you can feel positive for real!
Happy Selling!
Sean

Sean McPheat
Managing Director
MTD Sales Training | Image courtesy of Archipoch at FreeDigitalPhotos.net