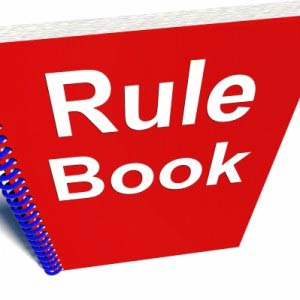 There isn't just one rule of selling, of course. When many salespeople get together to chew the cud, the discussions often get round to comparing their best sales lines, closing techniques and high-profile customers. Ask any of them and they will share their 'rules' of success, their guidelines for improvement and their techniques for closing the sale.
Coming up with one rule of selling is very-nigh impossible. But, as you might expect with me, I'm going to give it a go!
A rule is something that drives behaviour and commits people to change. It determines the direction that someone thinks and acts. So if it's to be called a 'golden rule' it needs to be right up there with all the other drivers.
Here's my take. The Golden Rule as far as I'm concerned follows similar to the Biblical Golden Rule, with a subtle change.
"Treat the buyer in the way they want to be treated".
When you build a relationship with a client, the way that you deal with them will determine whether it continues that way, or goes the way of many sales…fizzling out to failure.
Treating the client in the way they want to be treated means examining the way they take information in.
Are they detail-thinkers or big-picture thinkers? Highlight the ideas based on how they see information.
Are they process-driven or do they look for options? Make sure you present in the way they want it presented.
The key to ensuring you treat them in the way they want to be treated is based on the quality of the sales questions you ask. You then delve into their world, see things from their perspective, identify what makes them tick and build ideas from the foundation they lay for you. When the client tells you what they are seeking, they open up their world to you, giving you a glimpse into the future they are looking for. The direction you take as a result of that information will take you toward completion during the appointment.
So, think how the buyer wants to be treated. Ask them exactly what they see as the future solution to their current problems. And present to them in the way they want it presented.
Happy Selling!
Sean

Sean McPheat
Managing Director
MTD Sales Training | Image courtesy of Stuart Miles at FreeDigitalPhotos.net