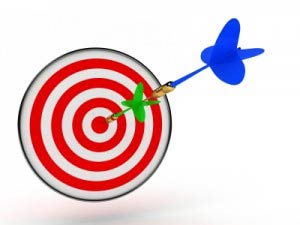 I remember being on the road with a salesperson whom I was coaching to take up a senior sales position within the company he was working for. His business had called me in to help him improve, as it seemed he had plateaued in his sales skills, and his boss was wondering what direction to take him next. Suffice to say that if he didn't improve, the chances of him getting a senior role in this global organisation would recede fast.
Before we went on our first visit, I asked him what his goal was with this particular customer. Now, most salespeople see goals as specific to this visit or this occasion. So he answered in the way I expected, which was along the lines of, "To replace their current paper and disc system to a new on-line system that 'his company' had just introduced".
Sounds like a good goal, doesn't it? To achieve a particular sale with this prospect that would help them achieve better results. And who wouldn't want to replace an outdated system with one much quicker, easier and better?
However, I told him it sounded more like an objective, and it was only looking at it from a one-dimensional perspective.
That is, he was approaching it from the angle of what he as the supplier was going to get out of it. There was nothing there that spoke of the prospect's goals and objectives.
So on the journey, he came up with an alternative, which went something like, "To provide the client with improved results and speedier responses by replacing their current system with our new on-line system."
I thought this was better as it commented on what the client would be getting out of it, i.e. improved results and speedier responses. But it was still not clear what the continuous relationship was aiming for. For example, if the client was not going to make the decision on this call, it would probably have been impossible to achieve the end goal.
So we redefined what the goal should look like by seeing it from the client's perspective. We moved the focus away from what the salesperson would be doing to how the client would see the supplier from their perspective. It enabled the salesperson to identify the long-term view and established the relationship as the key component of any and every contact he would have with the client.
After a number of trials, we ended up with something like this:
"My goal is to be seen by the decision-makers in this division as the prime supplier that brought them improved results and speedier responses by replacing their current paper and disc process with an updatable on-line system".
The difference was that this was looking at it from:
1) the client's perspective, and
2) the end result backwards, rather than the journey to the end goal
Goals should be seen from many angles but the most important one in this situation was that he wanted the client to see him as a prospective supplier. And the only way he could do that was see the relationship as a long-term one where the viewpoint of productivity was inextricably linked to working with the salesperson's company.
I continued my coaching with this salesperson for nearly five months and we heard later that he had been promoted to the senior role. His manager told me that one of the keys to his achieving the position was his ability to see the long-term value of business relationships, rather than trying to sell short-term solutions to every client.
I'd like to think that my discussion with him that day might have helped him on the long road to success.
Happy Selling!
Sean

Sean McPheat
Managing Director
MTD Sales Training | Image courtesy of Danilo Rizzuti at FreeDigitalPhotos.net