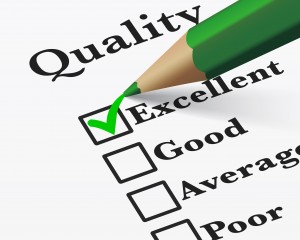 We've always been told that questions are the holy grail of the salesperson's quest to achieve results, as they uncover valuable nuggets of information that may be hidden in a customer's mental vault.
When we ask salespeople how they prepare their question bank for a sales meeting, it's fairly obvious that this isn't something that comes naturally.
We're not talking about scripting the meeting, because that doesn't allow for spontaneity or for diversity when the conversation goes a little off piste.
What we're referring to is how the salesperson structures their questioning system, so they can follow a robust pattern that gets to the heart of the customer's concerns and challenges.
Having this kind of system helps develop and acquire the knowledge required to build up value in your products and how they relate to the customer's business.
To start with, the system looks at questions that uncover data and facts. Naturally, you will have completed your research so that you can get beyond the bare facts; here, we're referring to the reasons why the data and information you have gleaned actually came about.
It would sound something like, "I see you turned over £xxx last year…..was this in accordance with expectations?' or 'When you said profitability was down, by exactly how much did it decrease?'
This gets you the essential information to develop the conversation.
Next, we look at the implications of those results and, accordingly, what actions the customer will need to take now. It uncovers the actions that need to be taken and the likely consequences and effects of those actions.
It would sound something like, 'What have you tried so far to turn things around?' or 'What results do you hope to achieve when this is sorted?'
Following on, we look at the impacts and implications of the changes they need to employ to change matters. This gets to the reasons why the changes are necessary in the customer's mind.
It would sound something like, 'What would happen if….?' or 'What will be the relationship between…..?'
The most high-impact questions get to the core of the issues the customer's business is facing. They identify what the end-results of the changes they are planning would be, determine the real challenges to those changes and help you create opportunities that might be fulfilled with your solutions.
It would sound something like, 'What opportunities would this allow you to pursue?' or 'When you implement these changes, how do you see your results changing?'
As we said, the quality of your questions will determine the quality of the responses, so you need to design a system that allows you and your customer to develop harmony in your approach, seeking to find answers to their most pressing challenges and opening up opportunities for you to build solutions together that will bring better results with you than without you.
Happy Selling!
Sean

Sean McPheat
Managing Director
MTD Sales Training | Image courtesy of Dollarphotoclub