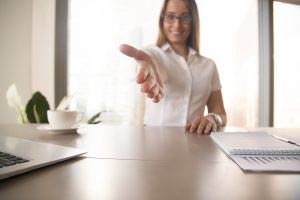 Before you can close the sale, you need an effective sales interaction.
Before you can have an effective sales interaction, you have to get the appointment.  Before you can get the appointment, you have to get your preverbal foot in the door.  With today's modern-day buyer, sometimes you have to broaden your approach to get in more doors.
Broaden Your Approach
You have a great sales process that includes a laser-targeted demographic of the perfect prospect.  However, you approach the company and you cannot get through to that exact person in that perfect position.  Don't give up on that company—get in the door another way.  Your ultimate goal may be to secure an appointment with the operations manager whom you know is the primary decision maker (DM).  However, should reaching this person prove extremely difficult or impossible, you may need to start with a subordinate or even someone in another department.
The Unqualified DM
You know the critical importance of qualifying the decision maker (DM) and in not wasting time with people who cannot make a decision.  Yet, there are times when meeting with the unqualified can help move the sale forward.  Remember, the person who cannot make the decision is often open and eager to see you because they know they have no authority.  In addition, for this unqualified person, meeting with you will often make them feel more important.  Then, if you can develop this person into a strong ally, they may not only help you get into the main DM's office, they may help you close the sale.
Other Departments
Keep in mind that whatever it is you sell, will usually offer some benefits or interests in other departments.  A helpdesk software rep should know how and where their product and service could help a company other than just in the I.T. department.  If you have to, meet with someone else; somewhere else, just get in.  Once you are inside and making contacts, you can get to the real DM.
Also, keep in mind that this should never be your first option.  Because a hard gatekeeper screen stopped you from reaching the I.T. Director, after you only made one or two phone calls, does not mean you should run out and set an appointment with the grounds keeper.
When you have exhausted your options to move the sale forward, then go in the door that is easiest to open and start there.
Happy Selling!
Sean

Sean McPheat
Managing Director
MTD Sales Training | Image courtesy of Big Stock Photo