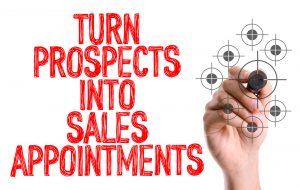 You will have known for some time that the ideas of selling have changed over the years, so that the emphasis is now less on the process of sales and more on the processes the buyer goes though in making the purchase.
Much has been written about the mind-set of the buyer and how they make decisions.
Our job in sales is to make it easy for that decision to be made and to fit into the flow that makes selling easy.
One of the ways you can do this is when you are making the appointment with a prospect.
This is a strange phenomenon but links up with the way the human mind works.
When you make an appointment with a prospect, what time do you usually suggest?
If you're like most salespeople, it's normally on-the-hour; ten o'clock, eleven o'clock, etc.
This immediately makes the prospect think that the appointment will last for an hour, as our mind-set for appointments tends to fall into hour-long blocks.
There are two things you can do to break the pattern of the prospect's thinking.
Firstly, don't make an appointment with them – instead, organise a meeting.
You make an appointment with a doctor or a dentist. It gives the impression that it's a painful experience!
Secondly, offer the meeting start time at an unusual time, like a quarter past the hour or a quarter to the hour.
This strange time choice makes the prospect think there is something different about this meeting.
They don't immediately think it's going to take 60 minutes of their time, and it stands out in their diary or calendar, too.
Trying something different when making an arrangement for a meeting will make the prospect feel there is a good reason for seeing you.
Happy selling!
Sean

Sean McPheat
Managing Director
MTD Sales Training | Image courtesy of Big Stock Photo