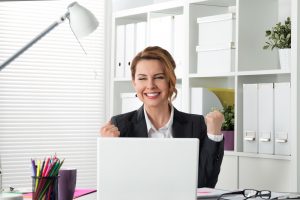 I've seen hundreds and hundreds of emails from companies trying to sell their products to me or my team.
Some of the products and services are really good and would make a difference to the way we work.
But the emails are so lousy or self-serving that they
(a) don't tell me how I would benefit or
(b) bore me to death with gratuitous exclamations of how good they are.
We've at times been able to turn these emails around and have sold our Sales Training programmes to them! 🙂
Here's an example of one I received recently.
I've changed the salesperson and company name to protect the (not-so) innocent:
Dear buyer
My name is Alan Salesman from ABC Ltd. We are the leader in providing solutions to help accelerate time-to-market and improve delegate communications on your training programmes.
We help customers such as CDE, FGH and IJK automate their relationships with their delegates who attend their courses.
Recently we were able to help one of your competitors to deliver a robust solution to their communication challenges. Using ABC Ltd will help you:
Improve communications with delegates
Increase delegate loyalty for future courses
Implement a best-practice approach for all delegate communications
To see how our products and services will help you, please call or email me at your earliest convenience.
Best regards
Alan Salesman
Not only is the email impersonal, lacking in detail, too vague and very self-centered, it doesn't give me any way to connect with them.
Here's what I would have written if it was me approaching me!
Hi Mr McPheat
How CDE Maintains Critical Relationships with their Training Delegates
Question: How do CDE, FGH and IJK maintain near-perfect delegate relationships?
Answer: ABC Ltd has helped them automate and streamline all aspects of delegate communications
For example, CDE distributes hundreds of messages to its delegate base on a monthly basis, timed to perfection and bespoke to the individual needs of those important people.
CDE have reduced their communication costs and increased delegate loyalty by over 18% in the nine months they have been using our products.
As a result, communication costs have decreased by over 14%.
I would be delighted to show how this could also apply to MTD.
To help you see how we could do this, please expect my call next week to discuss our free delegate communication analysis programme
Thank you
Alan Salesman
This second email makes it apparent why I should accept the call from Alan next week, and I would at least read it to the end.
There is no perfect email that will guarantee success, as most buyers don't accept cold calls and won't read unsolicited emails no matter where they are from.
But if you create a message that grabs attention from the first second, builds interest by talking their language, creates desire to know more and elicits some form of action, you have devised something that would be eagerly read and responded to.
Happy Selling!
Sean

Sean McPheat
Managing Director
MTD Sales Training | Image courtesy of Dollarphotoclub