So what does make a good salesperson?
Well, if I had a pound for everytime someone has asked me that question I don't think I'd have to ever sell again!
That said here are my top 8 attributes (in no particular order but #1 is!)
1. The Desire To Help People
Note how I said "to help people" and not to "sell them". The role of a salesperson is to help prospects and clients overcome some kind of problem and yes, this means at times that you'll need to walk away if you can't help them.
2. Listen, Listen, Listen!
Good salespeople have fantastic listening skills. They are no pre-occupied with what they are going to say. Instead they listen attentively to what their prospect is saying and act upon their agenda at all times. Two ears, one mouth and all that…
3. Questions Are The Key
Following on from the above the ability to ask quality questions is a vital skills for any good salesperson. Good questions will unearth needs, wants and pain and only then can the salesperson go to work by fixing these areas with their solutions.

4. Belief
Good salespeople have belief in themselves and in what they are selling. If you don't believe in what you sell then you are fooling yourself and your prospects and clients. Here's the acid test question as to whether you believe in your product or not: Imagine your mother or father was in the market for what you sell; could you, hand on heart, sit them down and give them a thorough presentation of what you sell and give them no discount whatsoever until they say yes. And would you be able to sleep at night? If the answer is yes then you believe. If not, get the hell out of here!
5. They Don't Give Up
Face facts – you'll probably get more "No's" than "Yes's". But do you give up or do you keep moving forward? Good salespeople appreciate and accept that hearing a "no" is part of the sales process and if you're not hearing some no's then you aren't selling hard enough.
6. No Cheese Please
The days of the "Have I got a deal for you" salesperson are over. Well, at least they should be if you're going to be successful! People want to know, like and trust you so make sure that you put steps in place to accomplish just that.
7. They Understand The Science Of Their Selling
Good salespeople understand their numbers. They understand the value of their ratios at each step of the sales process and they use the numbers to continually improve and develop to improve the ratios at each step of the process.
8. They Continually Develop Their Skills
I was talking at a conference last month about the important of continuing to learn and develop new skills. The audience of Sales Directors and Sales Managers were astonished when I told them that I had invested in over 30 days worth of training during 2008. How did I do this? Well, by listening to sales, management, marketing and personal development CD's in my car. Here's the quick math; 30 minutes to work and 30 minutes home each day. This equates to 1 hour per day or 5 hours per week. 5 hours x 52 weeks = 260 hours. 260 hours divided by 7 hours in a working day = 37 days!
I haven't taken into account time travelled to prospects, functions, clients etc but I've included 52 weeks to even that up.
What are you doing to improve your skills? Can you beat me? Bet you can't!
Ok, so that's my top 8 attributes of makes a good salesperson. There are others to add to the list but I'd bet that if you mastered these alone then you would be one hell of a salesperson!
Before I sign off, here are some more tips on becoming a great sales person: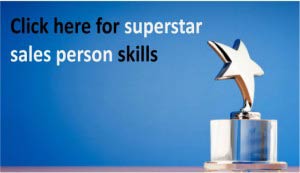 Happy Selling!
Sean

Sean McPheat
Managing Director