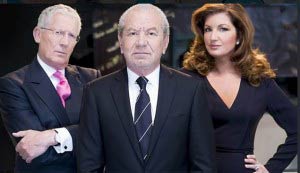 Yes, it's excruciating, painful and hilarious. But it's also a great study programme for those of us interested in the psychology of the fame-seeker. And the interest is shaken, stirred and served up with a delicate slice of hyperbole in this season's BBC1 extravaganza, The Apprentice.
I love to see how these obviously intelligent people in a past life actually try to sell themselves on TV, possibly not realising that if they go out in the first few weeks, people will only remember them for being total and utter mash-heads.
Listen to some of the quotes from the first show:
'I'm an alpha male. I can make women do what I want in the business world, and, come to think about it, some men". Yes, Daniel Lassman, but can you actually make a company successful?
He continued, 'I'd give myself a 9/10 for attractiveness, but I'm not better at business because I'm good looking. I'm better at business because I'm better at business.'
Well, that makes sense now, then. Thanks for clearing that up.
Steven Ugoalah was one of my favourites. 'I have an amazing idea that will make Lord Sugar a fortune and change the world. I'm not arrogant – because what I'm saying is all true.'
Can't wait to see wait what this idea is. And Lord Sugar's reaction. Riveting!
'I get the job done. I walk the walk. I talk the talk. I dance the dance,' said Mark Wright. Wow, that's what every interviewer wants to hear at every interview. And probably has. From all the has-beens and idealists that have stepped foot in the building!
And what of Scott McCulloch? Yes, the great one was on top form with, 'I see myself as a mix between Gandhi and the Wolf of Wall Street.'
An interesting and poignant observation from Scott, many supposing that up to seven billion people could be aligned in the same phrase! What a shame we won't be able to see if he is right. Lord Sugar eliminated him on the first show!
It was fascinating to see the way these people tried to sell themselves to the British public, or was it just to themselves? Surely the women on this series wouldn't stoop to the level that makes others reach for the sick bag?
Stand by for Ella Jade Bitton, claiming to be a management graduate, and giving all other management graduates nightmares. (Is this seriously the business I have devoted my life to? Arrghh!)
'The future belongs to those who believe in the beauty of their dreams. That's how I live. That's my motto.'
Now, I'm not so naïve as to believe all this is exactly how they appear in real life. It's pure televisual sloth, I know. But there will be some managers out there who will, in the future, be employing these delusional, aspirational salespeople.
Yes, that is what they are. In sales. every one of us has to sell ourselves every day in many situations. The question is do we need to pepper ourselves with bravado to convince others to like us? Naturally, obviously, essentially, the answer is no.
I am so looking forward to seeing how these apprentices are treated by Lord Sugar over the coming weeks. We're in for treats as the fun unfolds and we get to know them and how they change on the way. Compelling viewing! Just like a car crash!
Happy selling!
Sean

Sean McPheat
Managing Director
MTD Sales Training | Image courtesy of Twitter