Sales training designed around your

EXACT REQUIREMENTS

and delivered at a location and time of your choice!
In-house sales training is the most cost effective way of improving the performance of your sales team.
You are most likely reviewing your options at the moment for an in-house, bespoke course of 1 to 5 days in duration or you might be looking for a longer sales development programme. Either way, MTD can help you.
(If you are looking for an open/public course please click here . Otherwise please read on.)
MTD specialise in Business to Business, Business to Customer, Telephone and Retail In-House Sales Training.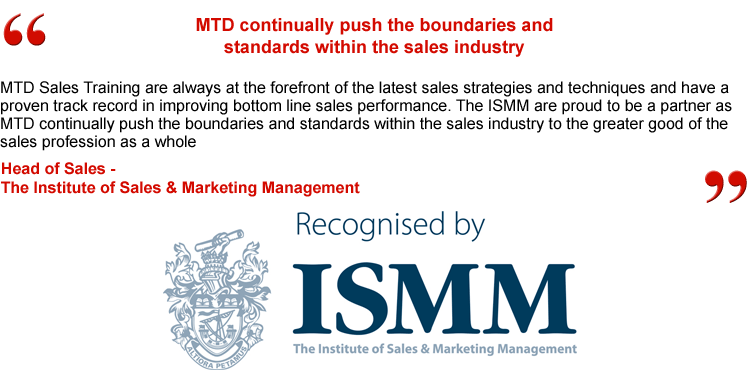 Some Of Our Clients Include: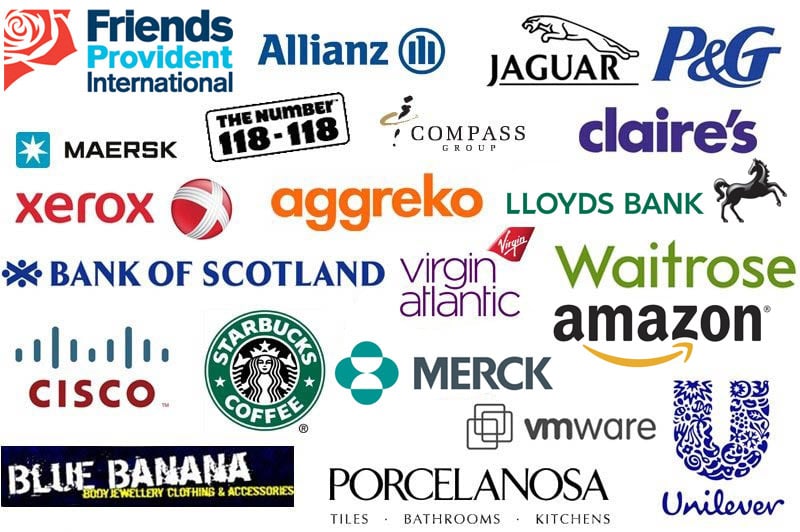 Whether it be for a group of new or existing sales people we can design and deliver a course that is centred around the exact requirements of your sales team and what you want to achieve. We also provide your team with free ongoing email and telephone support and a number of tools to help them embed the learning.
We can help your sales staff to…
Exceed their sales targets and close more sales in less time
Overcome the objections that they face with confidence and ease
Manage their diary more effectively to free up more time for selling
Understand the motivations and wants of their prospects
Eliminate their frustrations and stress when it does not go their way
Create a step-by-step consultative selling process that works
Learn how to build effective relationships and rapport
Get referrals from your customers, without hounding them
Qualify their prospects more effectively
Develop the right questions to use and when to use them
Boost their self-confidence
Eliminate all of the activities that are costing them sales, time and energy and implement a new system to make them more sales





What type of courses do MTD run and what is the process?
We run custom-made, in-house courses for your sales staff.
Whether it is telesales, face to face, consultative selling, retail sales or whatever!
All you need to do is provide us with what you want to achieve or tell us about the training requirements of the group and we will prepare a course proposal for you along with the costs.
What makes us unique is that every delegate who attends one of our courses will receive unlimited amounts of email and telephone support from their course leader. That means that they can ask for some personal advice and tips whilst implementing what they have covered during the course.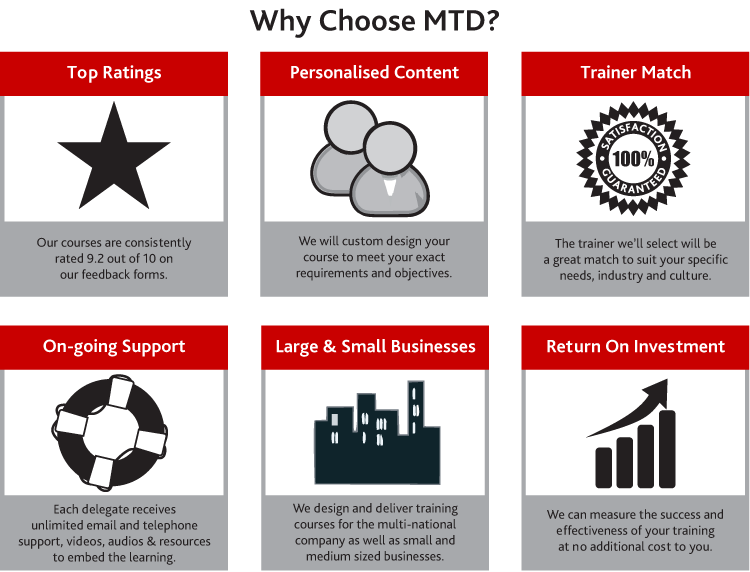 By asking for a course proposal you are under no obligation whatsoever at any stage.
The beauty of in-house training is that we can get to understand about your business before we deliver the training. We will also learn about what you sell and how you sell it to make sure that what we deliver is really specific to your industry and desired outcomes.
The training can be delivered at your premises or offsite at a hotel or training centre – the choice is yours!
In-house courses are usually run for 1-5 days, we also design and deliver longer, on-going sales development programmes that last from anywhere between 3-24 months.
(If you are looking for an open/public course please click here. Otherwise please read on.)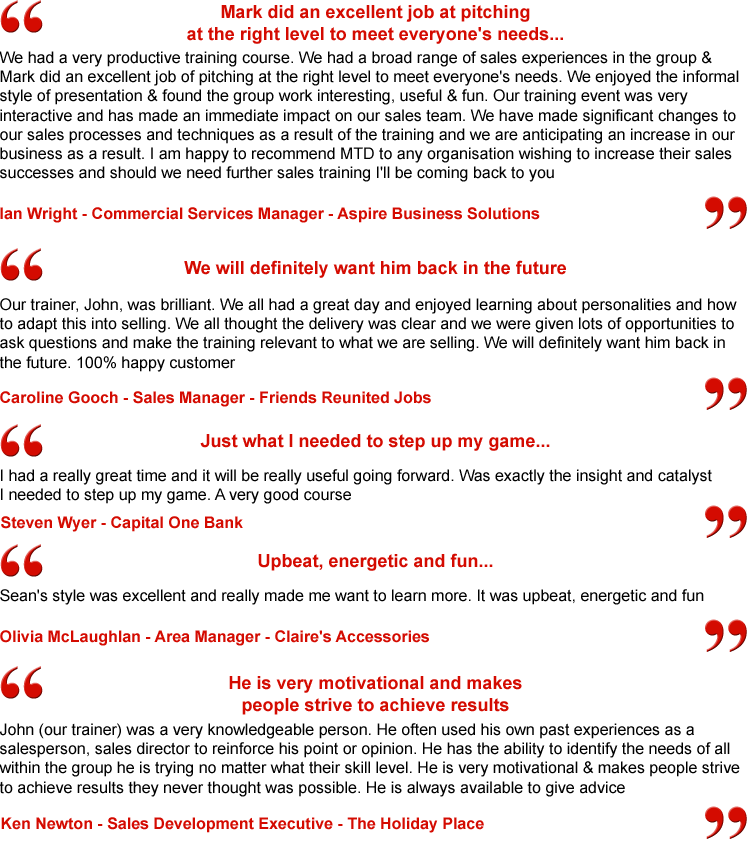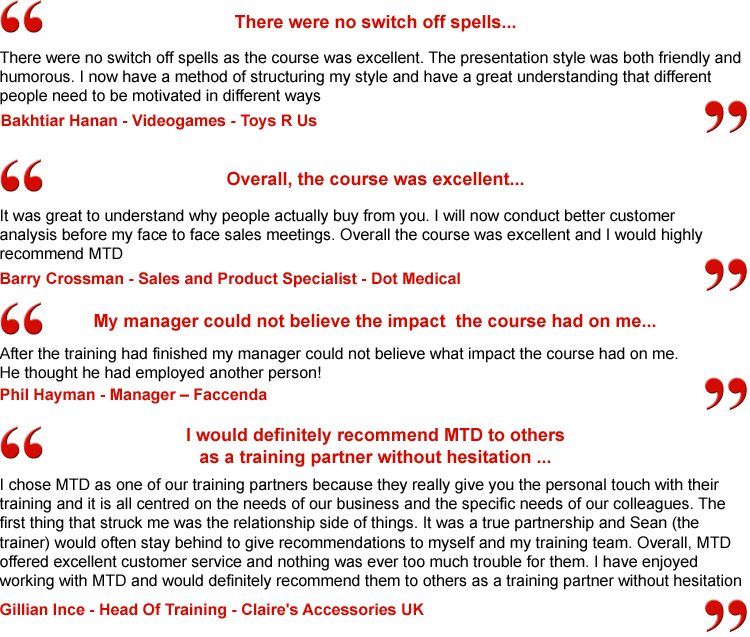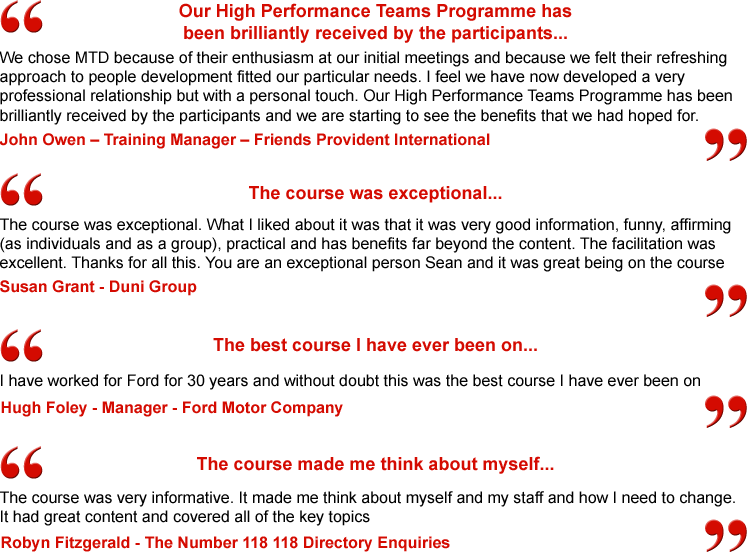 Tell Us About Your In-House Training Requirements



CALL US
0800 849 6732
EMAIL US
Send us an email to train@mtdsalestraining.com