PRACTICAL, ENGAGING & IMPACTFUL
Sales Training
We're MTD Sales Training, a multi award winning sales improvement company that is trusted by businesses both large and small. We work with some of the most famous brands in the world as well as SMEs.
Our core solutions include open sales training courses, in-house sales development programmes, digital solutions and assessments. Whether you're looking for an off-the-shelf solution or a bespoke, tailored option, we're here to support you.
Through our blended approach there are a number of different ways in which we can deliver quality and impactful sales training techniques that will make a real, tangible difference to your sales performance.
Award Winning Sales Training Courses
Open Sales Courses UK

Customised

Bespoke training. Custom design & delivery.
Unrivalled tools to help embed the learning.
Sales training topics, materials and delivery style matched to your needs.
Short 1 to 3 day courses or longer, on-going sales training programmes.
Blended learning options available that combine face to face and online.

Want to know more?
Please speak to one of our team or use
our online form to make an enquiry
Highly Engaging Sales Courses
From beginners through to the advanced, we offer a full range of Sales Courses that are delivered at different locations across the UK.
Our courses are focused on providing you with the skills, techniques and behaviours that will have a real impact on your sales results, and we offer you unrivalled levels of post-course support while you are implementing what you have learnt.
All our courses are accredited with the Institute of Sales Management (ISM) so you will receive a formal ISM certification at the end of your course as well as our standard CPD certificate of attendance.
Below are some quick links to some of our most popular open and customised UK based sales training courses and solutions.

---
Customised Sales Team Training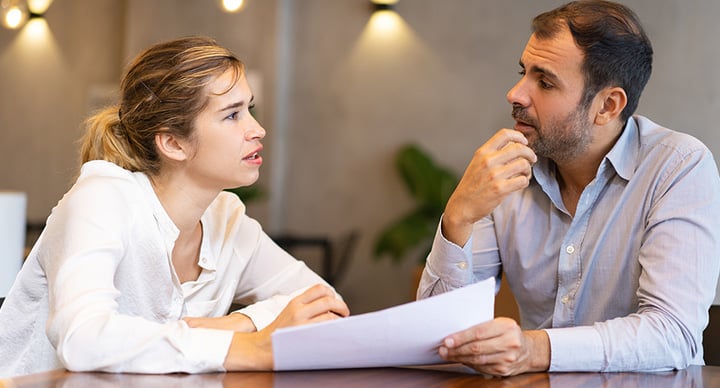 We can scope, design and deliver a completely bespoke In-House Training Course, Sales Coaching, Sales Apprenticeships or on-going sales training programme based around your exact requirements. It's important that the training is centred around what you sell and how you sell it.
Providing your sales teams with the very latest tools, approaches, and techniques for them to win more business and to farm their existing accounts more effectively.
The credibility of the trainer that we will use for your training is vitally important. Click below for some sales training ideas and indicative content.
Want to know more?
Please speak to one of our team or use
our online form to make an enquiry
FREE Sales Training Needs Analysis
If you want to learn what selling skills you need to improve then please take our 64 question training needs analysis – SalesDNA Skills Audit.
You will be asked questions about your sales technique, your products and services knowledge, the sales process, your sales strategy, how you prospect and everything else that makes up an effective sales professional.
You'll receive a personalised 19-page report with some recommendations on what you need to improve.
Over 10,000 sales professionals from the UK and all over the world have benefited from the output of the report and are now having better sales conversations and are closing more business because of it.
The analysis is free. Please click below to begin the test.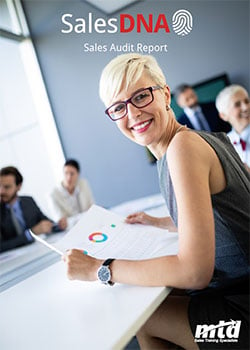 ---
Benchmark & Assess Your Sales Skills

We offer two types of Sales Assessment.
Choose from our competency or personality based assessments from our comprehensive library.
Our competency based assessments have been created using the benchmarks set by the National Occupation Standards and from the Institute Of Sales Management for each sales role.
We can also benchmark your sales team using your own competency framework if you have one.
We also offer several personality assessments which tap into the motivation, mindset and behaviours of your sales people to determine how they do their job, will they be successful and why they love to do it!
Why MTD Sales Training?

Practical
We don't bog you down with lots of sales theory. Our sales training programs are practical, engaging and focused on real world sales techniques that help you each and every day enabling you to sell more and to shorten your sales cycle. So whether you are experienced, new or had no formal sales team training in the past our approach will suit.

Flexible Solutions
No matter if your sales teams have had no formal sales training in the past or if they are seasoned sales professionals, we can provide a solution that is right for their level of experience and sales competence. From sales prospecting and negotiation through to complex sales training, we can offer it all and deliver it in a way that is ideal for you.

Full Service
From strategic selling through to sales management, from telesales through to sales training for beginners our broad range of solutions will create a successful personal learning journey for all sales teams. We have a range of diagnostics that can help your sales team to work out what their training needs are and then recommend suitable development.

Proven Track Record
We've got an enviable track record of winning awards and improving sales performance. The proof of the pudding is in the eating. Our clients will tell you what impact we have made to their salespeople. Our feedback scores are gathered independently on Feefo for all to see so when you select MTD as your provider you know you will be in safe hands.

Sales Trainers Who Have Sold
We will hand pick a sales trainer that is right for your culture and the sales skills and behaviours that you want to improve. All our facilitators have had successful sales careers in the past and will command instant "street cred" for you and your teams. Your people will soon discover that they are being trained by a seasoned sales professional.

Ongoing Support
After the training is when the real work starts! We will provide your sales reps and teams with tools, resources and ongoing support as they embed their learning into their everyday sales activity. Some organisations will take your money and run. We don't. We will help your sales team to embed the learning and will be on hand should you need us.
Want to know more?
Please speak to one of our team or use
our online form to make an enquiry
Useful Sales Training Resources
Improve your sales skills and sales performance by using our extensive training resources.
These include our guidebooks – "450 Sales Questions" and "The Sales Manager's Guidebook"
that have had over 50,000 downloads on the internet. Both receive rave reviews and are yours for free.

SalesDNA Skills Audit
Answer 64 questions related to how you sell and receive a 19-page personalised report on the findings.

Guides & Reports
Learn more about sales questioning technique, sales leadership and 100 ways to improve your sales success.

Sales Blog
Over 1,000 tips and articles on all different topics. Practical advice and help on all steps of the sales process.

Audios
Download to your phone or desktop. Includes getting past gatekeepers, overcoming objections and how to build value.

Sales Technique Videos
Receive 4 sales improvement videos and 5 audios to help you win more business at higher margins. Practical and engaging.

Sales Qualifications
Discover how we can provide sales qualifications for you and your sales teams. ISM endorsed and certified.
Sales Training Courses FAQ

What locations do you run your sales courses at?
We run our open courses at various venues in London, Manchester, Coventry, and Heathrow. In terms of our in-house training, we run them all throughout the UK at our clients' premises. We also have over 50 trainers that cover Europe and the Rest of the World, so we have a global presence.

What sales certification do you offer?
All our open courses are certified through the Institute of Sales Management. They are also certified through CPD. This means when you attend one of those courses that you will receive an ISM and CPD certificate. All our sales training programs can be certified too if there is a need.

Can you help me select which sales course is most suitable?
If you send us an email enquiry, complete our online form, or call us on 0333 320 2883 our Learning & Development team can have a chat with you to advise which course would be best. They understand L&D inside out so will be able to help you without any hard sell!

How can you customise a sales training programme for me?
This is what we specialise in. We'll get to know your requirements inside out and what your intended objectives and goals are for your programme. We'll give you a good listening too and really understand what is going on. We will then create a programme outline for your review and discussion.

What is the process for sending in Request for Proposals?
Please send them to us and our L&D team will pick it up and respond accordingly if it's our bag. We are not a training provider that says yes to everything. We will review the RFP and make sure that we can do an outstanding job for you. We owe you that.

Do you have any free resources that can help me?
We can certainly help you with this. We have plenty of videos, audios, diagnostics, and special reports that can help you. All of these are free as well. Please visit our Free Sales Resources page to gain access to all of them. We offer weekly email sales tips as well.

How much does it cost for a sales training course?
It really depends on the duration and the blend of design and delivery methods that we use. Our open courses have fixed costs because they have a set agenda and duration. Our customised solutions will be created and quoted around your exact requirements.

What are the credentials of your sales trainers?
All of our trainers have had distinguished careers in sales over the years. They have walked the talk so they have the scars of battle and experience to really connect with your sales team. They have all been top sales performers in their previous employment.

How can I find out more about each sales course?
Across the top level navigation of our website there are several options which will funnel you into the different types of selling solutions that we offer. It's not only courses that we offer. We also offer assessments and lots of free resources to help.

How many people do you have on each course?
Our sales training courses are practical, inclusive and focused on providing real world techniques that you can use. Therefore we keep the number of learners to between 10 and 12 so everyone can get involved, be heard and have the chance to participate.
Some Useful Sales Training Tips, Guides & Ideas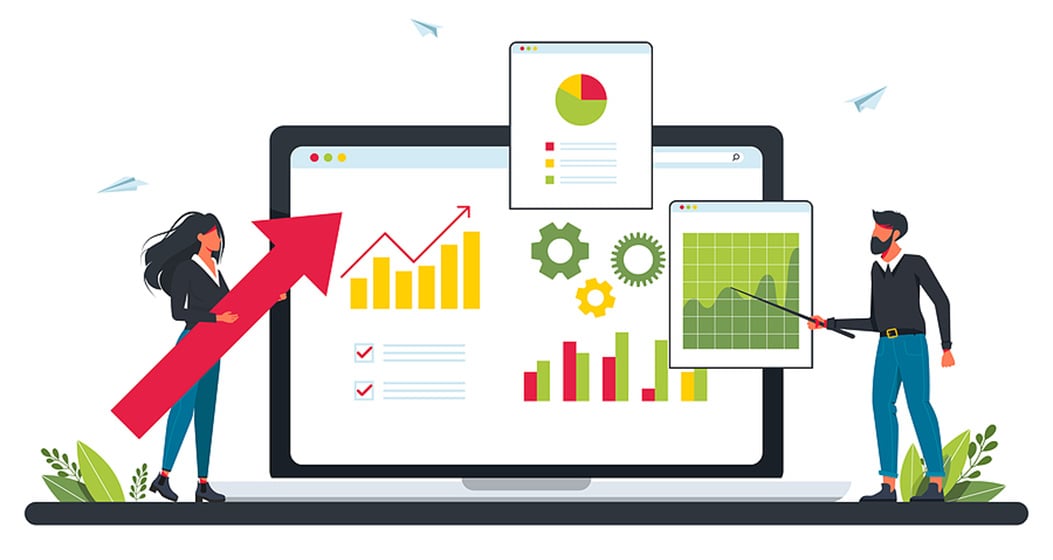 Creating an effective and realistic sales plan is a crucial process which aligns the work of your sales teams...