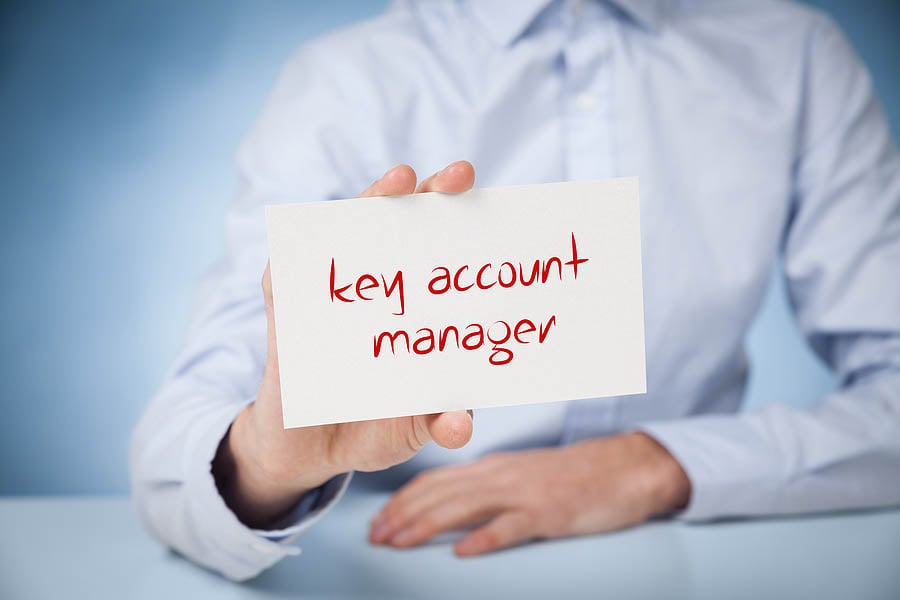 So, what exactly is a Key Account?
Think about your own organisation for a moment and what you class as a key account.  Is there an easy to follow definition? Does everyone understand what one is? Or are they just classed as the "important ones?"
Let's take a closer look a this much discussed topic!
What is key account management?
There are many key account management definitions out there but here are the 7 most common types of classification:
1. Are they just the big ones?
2. Are they the ones you mustn't lose?
3. Are they the ones that offer future profit?
4. Are they the ones you want your team to focus on – to look after the very best?
5. Are they the ones where extra effort will bring extra returns?
6. Are they the ones that demand more of you?
7. Are they the ones that will take your business where you want it to go?
A 'key account' might be the result of any one or more of the above or agreed within your organisation as a result of completely different factors.
It is for your organisation to choose its own definition based upon the dynamics of your industry, your customers and your own business.
So how has your organisation gone about choosing its definition?
It's not just a case of semantics – there should be some very serious thought behind the definition, because each can generate its own potential challenges. Let's look at these key account management definition.
Key account management definition
The Definition
The Potential Challenges

The BIG ones

What about tomorrow's oak trees? Do you always let the sales statistics make the decisions for you? You need to assess whether size is the key to the time you would devote to the account

The ones you MUSTN'T LOSE

You'll do anything to keep them happy, even if it kills you …

What if it's unprofitable to please this particular whim of theirs? How would you cope if the account decided to look elsewhere?

The ones that offer FUTURE profit

Where does today's profit come from?

What happens if they've been over-valued before they pay off? The account needs to add value to reflect the time you are giving them

The ones your staff FOCUS on

So, what happens with the rest, do they just ignore them?

Why are your staff focusing on them anyway?

The focus on time and approach should be where the results will be achieved

The ones where EXTRA EFFORT brings EXTRA RETURN

What does return mean?

How many accounts can you do this for – and at what cost to your business and your other customers?

If you can assess the concentrated effort's results, you have better utilisation of your time

The ones DEMANDING more

Every industry has its loud mouths – does that make them more important?

Just how profitable do their demands make them?

Then way you deal with the high-demanding clients can determine the results achieved

The ones that will take YOUR business where it wants to go

Could these be the best? Are you certain? The future is never clear.

Organisational plans change, yours included. So you need to assess whether the business you get from the account will help your account to thrive
Key Account Management is based firmly upon the 80/20 rule:
80% of any effort or expenditure gives 20% of the results
20% of any effort or expenditure gives 80% of the results
The key account manager v sales person
Applied to Key Accounts the 80/20 theory hits home – if we apply 20% of our organisational effort to just 20% of our customers (our Key Accounts) we will receive 80% of the organisational rewards.
However, we are not just talking of our 20% Key Account Customers in terms of their size, but in terms of their profitability and sustainability.
Therefore, a Key Account is also an investment in the future, as we know all too well from recent stock market news, past performance is no indicator of future performance.
This is where the biggest difference lies between selling and key account management.
A salesperson needs to live in the past, present, and future.
They base their sales on the past requirements of their customers and present discussions with potential and new customers on their present and future needs.
The majority of salespeople are reactive to the needs of their customer, only being proactive when they need to cold call potential new customers.
The Key Account Manager lives in the present and the future, but in a completely different way.
They are constantly looking for emerging trends, whether they are emerging in the present or seem likely to emerge in the future.
They apply these emerging trends to the industry that they are in and to the industries that there customers are in, proactively.
And thus, position themselves as advisers to their customers and portfolio managers to their own organisations, managing a portfolio of customers who will provide a solid and sustainable return on investment.
We've discussed the key account management definitions here. Do you see the one that's most important for you? Have you got other definitions of your key accounts?
Here are a couple of Account Management Guides that will help you further:
Want to learn more? Then why not book a place on our Account Management Training open course. They are run at various locations throughout the UK.
Happy Selling!
Sean

Sean McPheat
Managing Director