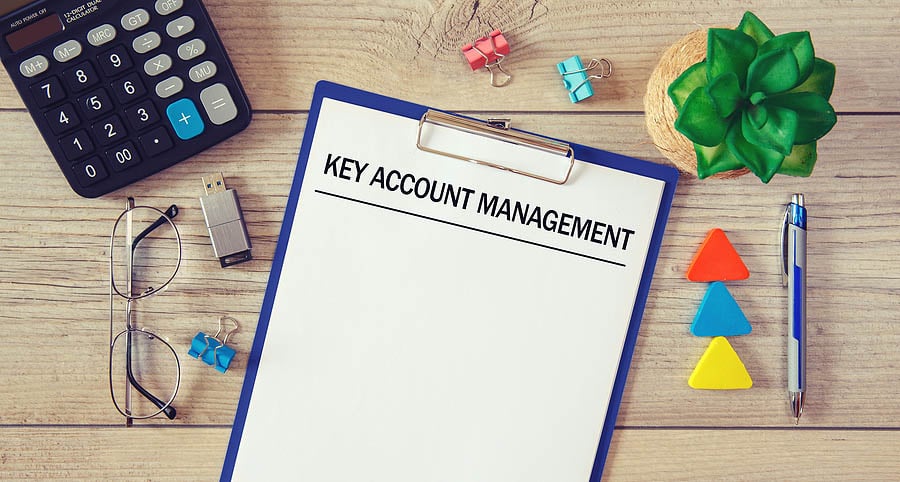 Key Account Managers (KAMs) are the stock-in-trade for many businesses, as they have the responsibility of bringing in much of the business that keeps our business ticking over.
What are some of the strategies that KAMs should follow that will give us the ability to compete effectively and bring in more business, while developing the connections with people who can bring us even more business.
Here are seven managing accounts tips that are covered on our Account Management Training that will help us achieve greater sales. Make sure that you understand the definition of key account management so you have a background of where I am coming from on these strategies.
Relationship building
No-one can ever say they have reached the pinnacle in relationships; we are always on a journey towards deeper and deeper contacts. We need to strategize effectively to gain a deeper understanding of their business and adopt a relationship mindset rather than a sales mindset.
Your plan should be to build the relationship through the continuous connection to added value in all you do with the account. Don't simply contact to 'check-in' or 'check-up'; contact to deepen the connection you have with the account at various levels.
Clear and focused communication
Key account management strategy naturally includes the competence to communicate effectively at every level. By being clear and focused in your messages, you give real reasons for the business to think of you for solutions to their issues and challenges.
By focusing on those solutions and communicating them effectively, you create a need and desire for your services that might not have been so clear if that hadn't been so focused.
Influencing and persuading skills
Strategies for persuasion and influence vary enormously depending on the situation you face and the people you interact with. The ability to get the other person to carry out your ideas and follow your suggestions will prove to be vital in your attempts to increase business.
The strategies you employ to get people to work with you and accomplish their goals for their business will help you persuade and influence others, without it appearing to be manipulative.
Industry / product knowledge
We always say that having enough product and industry knowledge just gets you on the playing field, but it doesn't actually win the game.
You need to find the right strategies to use the knowledge and abilities you have to assess what is the best solution and the right track for the client to follow.
Sales skills
Your sales skills will never be perfect, so you need to utilise the right strategies again to enhance your value to the client or prospect you are working with. Sales strategies require you to be at the forefront of the business you are working with, working with them to ascertain the best way forward to get their business to succeed. As a KAM, you act as a trusted adviser, working with the decision-makers to find the best solutions for them to create the way forward for their future.
Personal organisation
No strategy will work well if there isn't a great degree of personal organisation. You need to value what you can achieve through organising yourself efficiently, becoming the kind of KAM that adds value at every step to the client.
Varied strategies exist for you to develop these personal skills. As time progresses, you will find you are able to manage your strengths and development areas more effectively, allowing you to build good time management skills and appropriate levels of organisation that will give you confidence and agility in your working patterns.
Authenticity
This can be thought of as representing one's true nature or beliefs, being true to oneself or to the person identified. Strategies naturally follow on from this desire to be the person who can be trusted at every contact to follow through and be identified as trustworthy.
If there is any ambiguity in the way you work with clients, they will quickly see through you and you won't be seen as valuable to the account. Instead, you will continually be seeking ways to deal with deal-seekers, as you develop less and less authentic ways of connecting with people.
Each of these steps or strategies will help you achieve a higher level of trust with the account as you build credibility and control within the businesses you deal with, allowing the account and the people you deal with within it, to see how you can be more and more valuable to them now and in the future. Do you know what makes a good account manager? Find out on that link.
Happy selling!
Sean

Sean McPheat
Managing Director