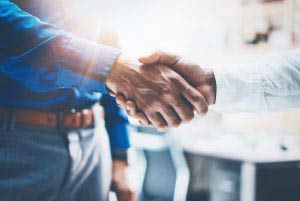 You have made the sale.  However, understand that you have not closed the sale; in fact, you have just opened it.  Here are three best practices for after the sale performance that will help you cultivate deeper relationships and turn more one-time customers into long-time clients.
#1 – Continue to Sell
What happens to your enthusiasm for your product or service once you close the sale?  Usually when the customer has signed the order, received the goods and paid the bill, the sales person discontinues the "selling."
At first glance this appears to make sense, because the customer has bought the product; the client has agreed to the service and therefore there is no more selling required.  The sales person feels no need to continue to try to convince the customer, because the customer is "sold."
However, this instant drop in your enthusiasm for your product or service can have a detrimental "buyer's remorse" effect on your customers.  From the client's perspective, at first you were so excited about what you sell that you could barely contain yourself.  You relished the opportunity just to speak to them about your wonderful products.  You went out of your way to help, consult and be of service.  Then, once you got the money, it all stopped and you disappeared.
If you are genuinely excited about what you sell, then that excitement should remain with you after the sale.  You have to continue to SELL your products or services to the customer almost as if the customer did not buy.  I am not talking about selling additional or different items.  I mean continue to sell what you already sold!  As you continue to sell, it strengthens the buying decision in the mind of the customer and raises your level of professionalism.  The customer sees that you actually believe in what you said.  The customer's trust in you grows and this is when the customer will begin to "open up" and inform you of their other needs.
#2 – Make Yourself Available
Let your customers know that you are available often and for anything.  Make an occasional telephone call or send a letter or email that tells the customer that you are always there to assist.  Create three to five ways to inform your customers that you are available.  These contacts can be days or months apart.  However, let the customer that they can call you.
#3 – Become a Liaison for Everything
One of the most effective ways to maintain effective account management and follow up is to become a liaison for your customer to other services and needs.  Become someone that the customer can call for ANYTHING that they may need, even though it may not relate directly to what you do.  Become a resource for your customers.  Let your customers know that they can call you for other things.  You then can refer your customers to other customers.  Network!
Continue to sell.
Make yourself available.
Become a liaison for everything…and you will build stronger customer loyalty.
Happy Selling!
Sean

Sean McPheat
Managing Director
MTD Sales Training | Image courtesy of Big Stock Photo