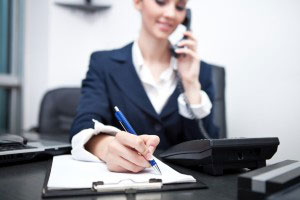 One of my sales trainers had an interesting discussion with a sales team recently, where the team were seeking advice on how they could make their sales records less over-whelming.
No-one had ever given them recommendations on how to make notes.
The question has rarely come up, but it's worth asking.
Should you make notes on everything that has been covered in the meeting?
If not, what should you cover and what should you do with your notes?
It's pretty obvious that you should be choosy in what you make notes on.
What, though, should definitely be in your notes?
Facts that help you remember the main points of the meeting
Actions that will take place with dates
Challenges or changes that have to happen to meet the requirements of the actions
The facts from the meeting should be those things that are important to remember.
The side discussions or items that won't be important don't need to be noted.
Action points should consist of those items that will happen to achieve the goals of the meeting and what will happen next.
Dates of completion should be noted and areas of responsibility given.
Challenges that will have to be overcome should also be mentioned in the notes.
If you or a team member need to take further action to deal with these challenges, it would be good to note them here.
Essentially, you should be able to read the notes back, understand the current position, identify the actions that should be taken, observe the challenges that would be need to be overcome and create plans for future work.
These notes should be of the quality that allows you to recall everything you need to progress the sale, without being tied down to over-detail and overwhelming minutia.
My sales trainer discussed these points with that sales team and they agreed to review their previous notes and compare them with these new ideas.
Most agreed that the new way would give them better opportunities to work effectively with their clients in the future.
Try these ideas and see if they work for you.
Happy Selling!
Sean

Sean McPheat
Managing Director
MTD Sales Training | Image courtesy of Dollarphotoclub