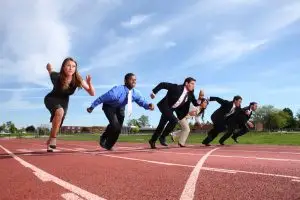 Many salespeople have left their personal and career development up to their company, and that's not a good thing.
Your company and boss are up to their ears in working on the urgent stuff, the everyday minutia that keeps the business going.
Rarely do they devote much attention to the future-focussed big picture that includes your specific development opportunities.
Discussions about your career and job progress often are raised at appraisals and performance discussions, but rarely in everyday chat.
This means that most of your personal development is left on the back burner, so to speak, and if you allow that to continue, you can see many years go by without contemplating the best use of your time to create your future.
So, how can you put your learning and development in prime focus and allow yourself the chance to progress even when the company isn't devoting 100% attention to your advancement?
What should you be concentrating on in order for you to keep moving forward in your career?
Here are some pointers:
Strengthen your strategy and negotiating skills
You not only need to keep up to date with sales skills and how they have changed over the years, but there are two areas that are really important to keep up-to-date with.
These two components will always be in fashion, and you need to work on your strategic thinking skills as well as your negotiating skills in order to keep ahead of the game.
Deepen you product, service and pricing knowledge
It's really important that you understand what your product does to help customers improve their offerings in the market place.
Falling behind in your knowledge of pricing will only cause embarrassing situations in future meetings and discussions with clients.
Build business acumen
You need to know how your customers' businesses work, what keeps them competitive and how they need to be structured in the future to make them successful.
If you're unfamiliar with the basics of how a business works (cash flow, balance sheets, profit and loss, strategic marketing, etc) then you'll be left behind when your prospects ask for business advice
Being social media savvy
Whether we like it or not, social media is here to stay and will develop as the key communication media for future buyers.
You need to become savvy at the way buyers and their businesses use social media, because without it, you will sound archaic and prospects will be put off.
Expand competitive knowledge
Through self-research and observation, you can become acquainted with what your competition is doing and how they are doing it.
It keeps you one step ahead in the race for customers' business and stops you looking foolish when prospects say they are contemplating using someone else's products.
By being up-to-speed with what's going on in your market, you ensure you are competent when discussing ideas with your prospects.
Support your career development
No-one knows your career aspirations better than you, so don't leave it to your company to decide what courses you are going on or what e-learning programmes might be available to you.
Decide on your future advancements within your own company or elsewhere and start looking at what your industry is offering you for your next move.
If you decide to stay and grow with your current company, find out what skills are necessary for you to be seen as potentially advancement material.
Think about what you can do to attract interest in you from people that matter within your company.
That way, you become a person who adds value at every step as you progress.
Each of these will help you learn and develop exponentially instead of waiting to see what might come up in your company.
Don't leave your development up to others; take charge of it yourself and you'll see how you can consistently control your learning and progress for your own career.
Happy selling!
Sean

Sean McPheat
Managing Director
MTD Sales Training | Image courtesy of Big Stock Photo