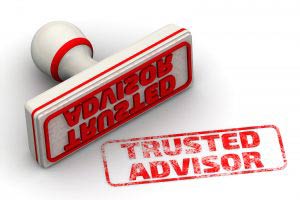 There are many levels of service that you can achieve with your customers, and many salespeople are quite happy to achieve the status of supplier to their businesses.
At this level, you continue to offer products and services as and when the customer needs them, and the relationship rarely goes beyond making sure the goods are delivered on time.
Some salespeople, however, build up closer relationships with their customers to the point where they become a trusted advisor to them, offering much deeper information and much better assistance for their future needs.
So how do you become one of these trusted advisors, creating a partnership that will be of mutual benefit to both sides?
Here are some examples of what you need to do to prove you can be of major benefit to their business:
1) You must understand your customer's short and long-term goals, objectives and priorities, as specifically as possible.
Ask where they see their market share being in the near future and what their plans are to achieve that.
Get close to them on financials, as the more you know in these factual areas, the more you can assist in their buying processes to help keep them on track.
2) You must understand the company culture and its values.
By doing so, you can link in with the way they operate and offer advice on how your services can add to that value base.
3) You must understand the customer's decision-making process.
What I mean by this is you must be sure you know the people involved in making choices, not just in respects to your products, but also in other areas of decision-making.
4) You must understand the needs of your customer's customers.
This will allow you to advise on the best way of marketing your products to the end user.
You know you products and services better than your customer does, so help them achieve their goals by advising them on how to sell them.
5) You must understand how your customer's competitors work.
Do some research on what their competitors are doing at the moment and present it to your customer.
You will get lots of thanks and loyalty because very few of your competitors will think of doing this.
6) You must understand the opportunities that exist for your customer in their market place.
How competitive are they?
What major USPs do they offer to the market?
By knowing this information, you can offer trusted advice when it comes to new campaigns and products.
By becoming a trusted advisor to your customer in these areas, you make yourself an invaluable resource to them and create reasons for loyalty in the future.
It will take away the attention from price because you offer something more valuable than money.
And that's something your customer will always thank you for.
Happy Selling!
Sean

Sean McPheat
Managing Director
MTD Sales Training | Image courtesy of Big Stock Photo