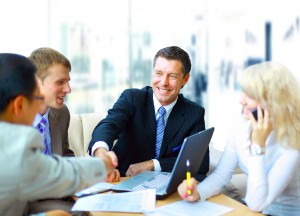 In sales, our natural goal is to make as many people or businesses as we can more successful or profitable than they are currently.
That's the bottom line…it cements the long-term relationship with the new client and makes it a no-brainer that they should continue to do business with us.
So what should you do when you have secured commitment from the prospect and actually agreed the sale?
Many salespeople miss out on the chance to build the relationship at this point, as they are just relieved or excited to have got the signature.
Our advice is that you develop a strategy at this point so the new client is convinced they made the right decision to go with you.
The strategy fits neatly into three steps:
You tell them what action you are going to take
You tell them when the action will take place
You tell them what it means to them or their business
An example would be:
"I'll call you tomorrow to confirm that the delivery has been scheduled for next Wednesday morning".
This gives them confidence that the arrangements have been understood by all parties and that you are taking the responsibility for the next action.
Another example:
"I'm going back to the office now to process the paperwork and I'll arrange for John Smith, our customer liaison manager, to contact you this afternoon to make all the necessary arrangements" 
This confirms the next stage in the process for them and again builds trust in what will happen next.
And another:
"I'll email the details through for the commencement of the services and confirm the next stages so you have control over which services you use specifically and at what time. Are there any further details you need before we start the ball rolling?" 
This makes the new client aware of the next steps and allows for any final questions to be answered.
What you're doing at this point is proving to your new client that you are professional, proactive, dependable and capable of ensuring their complete satisfaction.
You will start to build trust in the new client's eyes, proving to them you are more interested in their future results than in your commission or making a sale.
It's also a good time to think about 'upselling' as the customer is already in decision-making mode.
Many salespeople say things like: "Would you like to take our extended warranty on that? It's only £XX and would give you piece of mind."
Instead, try using the approach where they would be joining a select band of customers who enjoy the benefits of the extended warranty.
It would sound something like:
"Many of our customers enjoy the advantages of our extended warranty package. From what we've discussed, your business would certainly benefit from it too. Would you like to do that?" 
Upselling immediately after your customer has made the decision to buy is much easier than waiting to do it later.
By using these strategies immediately after the sale, you create that bond between the two of you that allows the relationship to start building and increases the chances of a long-term partnership.
Happy selling!
Sean

Sean McPheat
Managing Director
MTD Sales Training | Image courtesy of Big Stock Photo