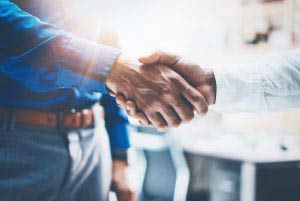 Poor salespeople aim to close the sale; great salespeople aim to create relationships.
Take that phrase, write it out, laminate it and keep it close to your heart. It will always keep your drive in the right direction.
Many salespeople on our courses ask for techniques and tips on closing the sale. We say that the sale will naturally close itself if you have done everything right beforehand. But don't think of it as being a 'closure'; think of it as gaining commitment to the next stage of the relationship.
You need to be thinking about how you can get your customer to build a trusting relationship with you, how you can partner with them and how you can continue to solve their ongoing problems.
Make your focus long-term, a mutually-beneficial relationship with your new customer. Even if you don't sell to this prospect today, think about how you can still maintain the close relationship so that when they ARE ready to buy, you are the first person they think of.
Where's your focus today? Are you spending most of your time on getting new business, or are you devoting time satisfying, developing and building existing business?
You need to earn the right to prospects' business; it won't just fall in your lap. Relationship-building should be high up on your list of priorities, and you should be spending time developing the skills you need to keep those relationships on a forward momentum. It's no good getting new customers if the existing ones fall out the back door.
Remember that gaining commitment is just one small step in the long-term partnership with a customer. Concentrate on relationships and you will not have to rely on cheap tricks to close the sale.
Happy Selling!
Sean

Sean McPheat
Managing Director