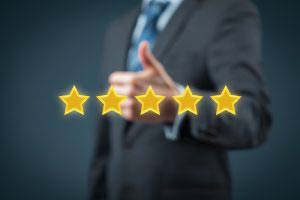 A really interesting survey was carried out by an American company called 'Success Masters'.
They asked their clients to complete a 'Customer Service Evaluation' form, where, amongst other questions, they asked this one: "How many customers walk away from an encounter with you or your staff "absolutely astonished" at the level of Service you have provided for  them"?
They were asked to rate the number out of ten; in other words, how many customers out of ten would rate your service as 'absolutely astonishing'?
Believe it or not, the average score most staff gave themselves was an 8!  That is, they actually believed that they were giving astounding, superb, incredible and astonishing service to eight out of ten customers!
Do you think that could be right? I have my own opinions, and it doesn't come out in favour of the salesperson!
What does this mean? Well, before you can find a solution to a problem, you have to admit that you have a problem in the first place! In retail sales, this isn't always the easiest thing to admit.
And  if you think you're providing excellence in 8 out of ten cases, and in reality you're only providing a 3, "denial" is costing you lots of money – every day!
The best way to improve sales and profits has been proven to be the giving of excellent or remarkable service. And it's a skill that can be learned, if you have the right attitude to start with.
Firstly, decide that you WILL learn to give nothing other than excellence in everything you do. It means making sure you accept responsibility for all outcomes and accept nothing less from yourself than absolute integrity towards excellence.
Then decide to learn the customer service and sales skills that will set you apart from your competitors. You don't have to be perfect; you only have to better than the competition. Act as if this customer is the only one you will see today. Give them all your attention. Provide them with good reasons to remember you. Make their day.
If you learn the skills that will provide the foundation to create a great experience for the customer, you place yourself head and shoulders above the competition and offer something that maybe will make your new prospects advocates for your business.
Happy Selling!
Sean

Sean McPheat
Managing Director
MTD Sales Training | Image courtesy of Big Stock Photo