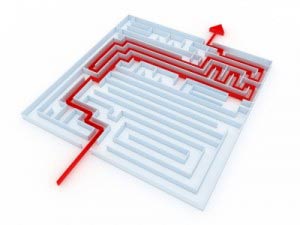 Sales is an unpredictable profession at the best of times. You may be up one moment and down the next. And a lot of the unpredictability comes from the 'not knowing', the lack of clarity of where you are in the selling cycle or what is actually happening during the sale.
How do you know when things are actually going right during the sale? Naturally, you know when you have built up good rapport with the prospect, but what signs are there that you on really on the right track? What will you see and experience that tells you you are going down the right road?
Here are some signs you might want to look out for:
1) The prospect asks for your input to assist in the evaluation of the direction they should be going. This means your advice is sought, rather than just a list of your products.
2) The prospect is sharing information with you that they haven't done previously. Their need for absolute control in the conversation is lessening.
3) You are able to open up with the prospect yourself. No longer do you feel the need to make wild claims about what your services will do; you're more open and honest.
4) The relationship you start to build is based on trust, collaboration and honesty. This shows you have gone further than just a seller-buyer state of mind.
5) Your thought process goes beyond 'how will I close this prospect?' to a more considered 'How can I help this prospect achieve their goals?'. This helps you stop selling and, instead, aid them to buy.
6) You'll go beyond the prospect's expectations and set new high-bar levels of performance. The prospect is less concerned about you trying to sell them something, and more interested in what is the best long-term solution for them.
As the relationship builds, there is less reason for you to sell your services, and more reason for you to build relationships. You know you're on the right track when the relationship becomes less supplier-buyer focused; instead, the prospect sees you as a trusted advisor. They start asking you questions related to their business, and listen attentively to what you have to say.
When you've got to this position, you can identify how the prospect makes decisions, what criteria they use to go forward, and how your products and services might fit into their future. Remember, they buy future outcomes, not products, so start building on what you have already laid as a foundation. Then you'll see that you're really on the right track to a successful long-term partnership with this prospect.
Happy Selling!
Sean

Sean McPheat
Managing Director
MTD Sales Training | Image courtesy of David Castillo Dominici at FreeDigitalPhotos.net